Horticultural nutrients solutions company Growth Technology needed an in-house cleaning solution for international bulk containers (IBCs). SNP's complete IBC Cleaning Solution was the answer.
The Problem
Growth Technology is a very successful company which sells a wide selection of innovative horticultural products with nutrient solutions at the core of the business. The company is well established; it has been operating since 1985 and is well known where it is based in Taunton, Somerset. Here they have a very large headquarters of more than 60,000 square feet. The company prides itself on providing exclusive products of the highest quality with great service, delivery, and support.
Growth Technology approached SNP because it was having issues with the cleaning of its intermediate bulk containers (IBC). IBCs are used for storage and transport of a wide variety of liquids. The company was manually using a pressure washer cleaning system. However, with the business growing strongly, this was beginning to create a number of challenges - it was time consuming, highly manpower intensive and was leading to increased utilities and water consumption and costs.

The Challenge
Manually cleaning the IBCs took considerable manpower and was extremely time consuming:
- the cleaning process was not consistent, meaning many IBCs had to be cleaned again to ensure they were up to standard
- the pressure washer system did not reach all parts of the IBC so additional time had to be spent manually cleaning those parts
Water consumption was extremely high

Some chemicals in the IBCs could be hazardous and harmful to health. While staff did wear PPE when handling the IBCs, the company wanted a solution which minimised the possibility of staff coming into contact with such products. 
The solution
SNP recommended its IBC Cleaning Solution which makes in-house cleaning of IBCs quick and easy.
The solution includes three components: a lance, a lid with removable plug and the Orbitor Eco fast-cycle rotary cleaning head.
These components can be quickly and easily assembled and dismantled and moved to wherever needed as long as there is a water supply.
The IBC Cleaning Solution can be used with different cleaning heads. However, SNP recommended the Orbitor Eco rotary nozzle to deliver the cleaning power needed in the quickest possible time and using as little water as possible.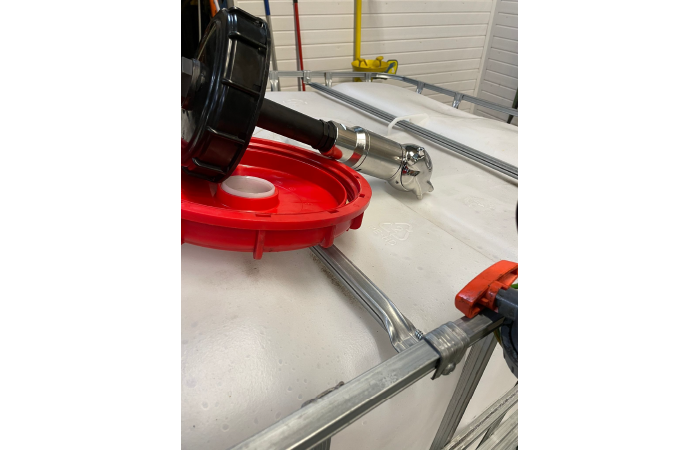 Benefits of the Orbitor Eco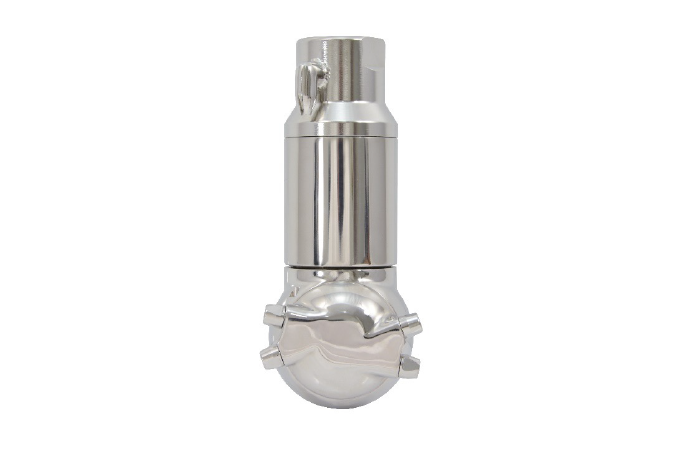 Orbitor Eco Rotary Jet Cleaner
Fast cycles (as quick as 3 minutes)

Considerable reduction in water usage - the Orbitor Eco delivers a flow rate of between 45-85 litres per minute

Hygienic materials and design suitable for use in even the most hygienic applications

Reduction in maintenance times - the Orbitor Eco is easy to maintain and can be stripped and reassembled in 15 minutes.
Results
Since Growth Technology has implemented cleaning IBCs with the IBC Cleaning Solution, a lot of time and manpower have been saved, and, importantly, all the IBCs are cleaned to a very high standard. Andreas Cooke, Manufacturing Manager at Growth Technology says: "We are really delighted with this solution. It is a great bit of engineering and has saved us 500-600 litres of washing fluid per washing cycle".
About SNP
SNP supplies spray nozzle solutions to industries worldwide, including the largest engineering, food processing, chemical and petrochemical companies, as well as a vast array of small and medium sized enterprises (SMEs). The company's product range includes tank washing nozzles, hydraulic nozzles, air atomising nozzles, custom piping assemblies and spray accessories as well as disinfecting and washdown systems.
SNP is as skilled in advising design engineers at the beginning of projects as it is recommending and supplying replacement products that may be needed in a hurry. The company can also provide innovative custom solutions, including using non-standard materials. SNP holds ISO 9001 certification.
SNP is an exclusive distributor for US spray nozzle manufacturer BETE, for pre-treatment specialist Uni-Spray, specialist paper industry nozzle manufacturer ML Gatewood and tank cleaning systems manufacturer Dasic. In addition, the company supplier's specialist washdown and disinfecting equipment from Lafferty Equipment and Guarany. Orders are handled quickly and efficiently from the company's dedicated stock-holding facilities
01273 400092