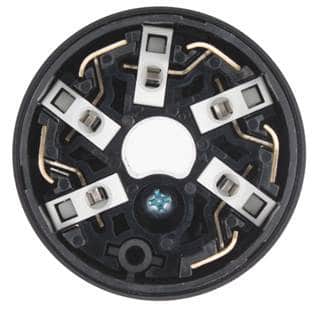 There is now a practical M12 connector on a terminal element for the ever popular family of Kombisign signal towers. Werma has responded to customer calls to making assembly of the modular Kombisign 70 and 71 range of signal towers simple and effective.
No previous knowledge of installing a Kombisign signal tower is required with the new M12 terminal element. No tools are required, an eight-pole connector is simply plugged into the socket and the signal tower is ready for use, thus saving time money and effort.
This makes installation on machinery that needs to be moved around or tested very straightforward and quick.
The ever popular 'twist and fix' system of attaching light elements and accessories to modular signal tower means that a signal tower can now be made ready for use in a matter of moments.
Whether surface or tube mounting is required, the new M12 terminal element can be used with all of the accessories from the extensive range of products in the Kombisign 70 and 71 families.