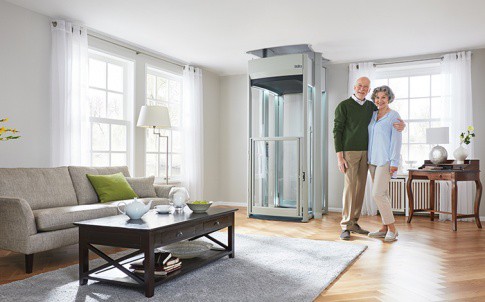 Lifton Home Lifts offers homeowners an instant upgrade to their homes, creating a multi-functional, multi-generational home with a top-of-the range, energy efficient, domestic lift.
This 'through the floor' lift not only looks spectacular, but thanks to its ingenious engineering, it is also the easiest home lift to install on the market, typically taking just one day to install.
The Lifton Home Lift is manufactured by leading home lifts specialist Stiltz, who manufacture lifts in the UK and worldwide. The lift is unique because it is modular, self-supporting and plugs straight into a domestic power socket. In the event of a power cut, battery backup gently lowers the lift back down to the ground floor.
Once an installation date has been established, the lift arrives in module sections, passing easily under low ceilings or doorways, and simply builds back up into place. Its tiny footprint of just 0.8m² (1040mm x 760mm) makes it extremely flexible for placement options allowing it to naturally blend in, rather than take over.
Unlike other noisy, boxy-looking home lift products, Lifton is a premium high-end brand, designed with living in mind and this is reflected in its neutral, muted colourway and curved profile, chosen to move with the seasons and flatter any existing interior design scheme. It also features soft LED lighting at the top and bottom of the car for ease of use at night.
The lift travels on unobtrusive and elegant self-supporting stilts using discreet wire rope hoists that guide the lift safely and quietly. No load bearing walls are required, no noisy machinery room or lift pit or shaft are needed. The only building work needed is a small opening in the ceiling for the home lift to pass through between floors.
Two small remote controls are included which call the lift at any time, from either floor, and it will complete a journey in under 30 seconds with or without passengers. Safety sensors fitted above and below the lift car detect obstructions and smoothly stop the car. The Lifton Home Lifts range includes the capsule-shaped LiftonDUO Home Lift and the larger LiftonTRIO Home Lift which is can accommodate a wheelchair and carry up to three people.
When it comes to premium home lifts - where engineering meets design - there is only Lifton. Luxurious, stylish and intelligent.