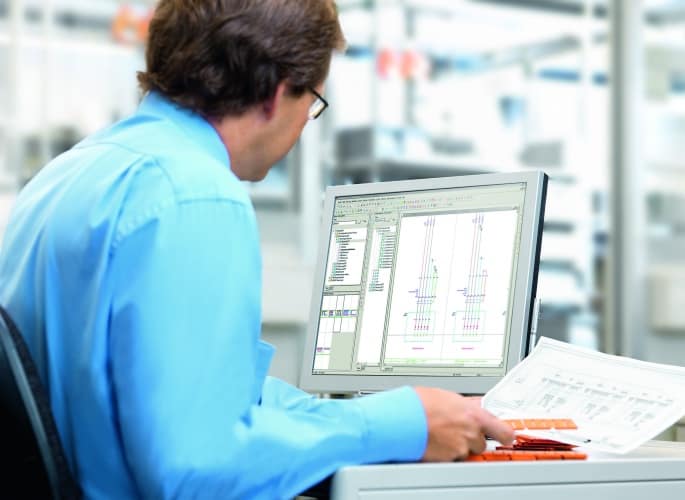 Weidmüller provides its product data – comprising more than 16,000 items – in the EPLAN Data Portal for the EPLAN platform. Users benefit from simple data handling, as well as consistency and support in engineering. The extensive data records already include the new A-series terminal blocks from the Klippon Connect range of terminal blocks. Two ranges are available in the new terminal block portfolio to provide the perfect solution: one application range and one universal range. The user can also download the data records they require from Weidmüller's website. The number of data records is continuously increasing and Weidmüller is planning to ensure complete availability of all items for 2017.
EPLAN users can use the Weidmüller engineering data in many ways: in the individual process phases, as well as in the production, project planning and commercial workflows. The standardised, internationally usable engineering data saves a substantial amount of time during all process phases compared with manual data creation. The data records contain functional descriptions or logic and 3D macros, and substantially increase quality in the overall process as well as in documentation.
The commercial data forms the basis for product data. Indeed, the data records can be used in ERP, PDM and PLM systems without any problem. Processes can therefore be digitalised and product configurations can be illustrated in a systematic manner. The technical data helps designers to precisely select their components.
One key feature for data records is the descriptions of the electrical functions. These functions are saved to the item and are added to the circuit diagram in the form of icons – or a logic macro is available as an alternative.
In addition, designers can use 3D macros for panel configuration. Alternatively, components can be positioned using the geometric data. Users can be provided with advanced output formats, such as the dxf format, in the data portal.
Weidmüller uses digital methods to map its items. Electrical functions are illustrated, in addition to a mechanical model featuring all the relevant information about dimensions and connection data. The data derived from this provides customers with optimum support when digitalising their panel building process.