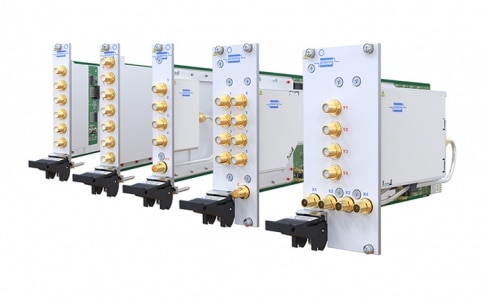 Modular format for easy system integration
Pickering Interfaces, a leading provider of modular signal switching and simulation products for electronic test and verification, today launched a 13-model family of 8GHz solid-state RF PXI switches, including SPDT, SP4T, SP6T, SP8T, SP16T and 4x4 Matrix devices. Pickering Interfaces' series 40-88xA high-performance switch family now covers 10MHz to 8GHz in the modular PXI format for easy system integration.
Targeting the telecoms and semiconductor test industries and compatible with a wide range of platforms including PXI, PXIe Hybrid and Pickering USB/LXI chassis, all the new units feature automatic termination of unused switch channels, up to +36dBm input power handling and excellent RF performance characteristics. Single, dual, quad, hex and octal versions are available on some family members.
Comments Bob Stasonis, Director of Sales & Marketing at Pickering Interfaces: "Solid state switches ensure a long service life with no wear out mechanism, and can sustain frequent hot switching without performance degradation. It is Pickering's policy to offer as wide a range of units as possible to meet the customer's exact requirements." 
Pickering Interfaces stands behind all of its manufactured products with a standard three-year warranty and guaranteed long-term product support. Pricing and availability information is supplied on their website at www.pickeringtest.com.