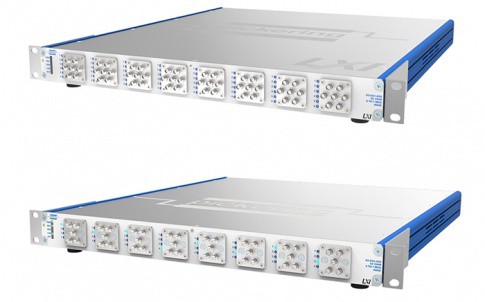 Pickering Interfaces, a leading provider of modular signal switching and simulation products for electronic test and verification, today launched new four and six channel LXI 50Ω microwave multiplexers in compact 1U and 2U rack-mount form factors. The 60-801/60-802 high-performance microwave switches feature excellent RF characteristics and repeatability to within 0.01dB.
A choice of up to 16 multiplexer banks with any combination of 6GHz, 18GHz, 26.5GHz and 40GHz bandwidths can be supported and control is made simple via1000Base-T Ethernet interface – enabling remote control from a distance if desired.LED display of energized switch paths simplifies operation.
Targeting test operations in hi-rel industries such as defense, aerospace, semiconductor and communications, the units are offered with an extended, guaranteed life of 10M operations for most models – typically the actual life is above 25M operations. A wide range of build options is available to match customers' exact requirements. 
Comments Bob Stasonis, Director of Sales & Marketing at Pickering Interfaces: "Both units feature an extremely high level of performance, offering low VSWR, very high isolation, low loss and high power handling. They are ideal for switching 50Ω coaxial systems that require a high performance from the HF band to microwave frequencies." 
Pickering Interfaces stands behind all of its manufactured products with a standard three-year warranty and guaranteed long-term product support. Pricing and availability information is supplied on their website at www.pickeringtest.com.