Renishaw's versatile Equator measuring gauge represents the company's first leap into the gauging market. The tool - aimed at companies and subcontractors in the aerospace, automotive, and medical sectors - is designed to measure individual parts both quickly and accurately.
The potential of the Equator was acknowledged recently at the Techni-Show Innovation Awards 2012 where it received the Gold Award, despite being up against fierce competition from companies such as Mitsubishi, Nikon and Fehlmann.
"Measurement is often overlooked but without it we wouldn't be able to live our lives as we do"

Brian Bowsher, National Physical Laboratory
One could say that the Equator is a happy medium between the measuring technologies currently on the market. Andrew Blackmore, principal electronics engineer at Renishaw and the person responsible for designing and manufacturing the Equator system, said: 'Typically in the market you have two products for measuring parts coming off production lines if you want any kind of accuracy.'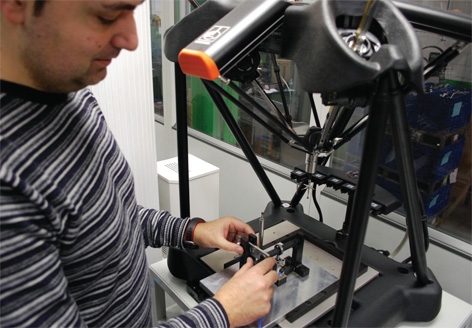 The two measuring products Blackmore is referring to include co-ordinate measuring machines (CMMs) and hard gauging machines. However, they are at opposite ends of the spectrum. 'CMMs are inherently accurate machines. You can place a part on it, measure it, and you will get good data back. But they're expensive and quite slow, which means it can be difficult to get good throughput from them,' said Blackmore.
At the other end of the spectrum lies a measurement technique known as hard gauging, which is used for large-scale production runs that can potentially involve tens of thousands of parts.
Blackmore explained: 'When using hard gauges, you would have a fixture that has a lot of linear voltage displacement transducers (LVDT) positioned at critical points on the structure.'
LDVTs comprise three coils placed end-to-end around a tube. A cylindrical ferromagnetic core, attached to the object whose position is to be measured, slides along the axis of the tube and indicates displacement.
'We identified a gap in the market between CMM and hard gauging,' said Blackmore. 'A hard gauge can be very expensive - up to £50,000 - but the problem with that is if you change the part you have to change the fixture and that is costly.
'Similarly, with a CMM for example, that's fine to re-program but the throughput is a lot lower and you need more skilled people to operate it and program it.'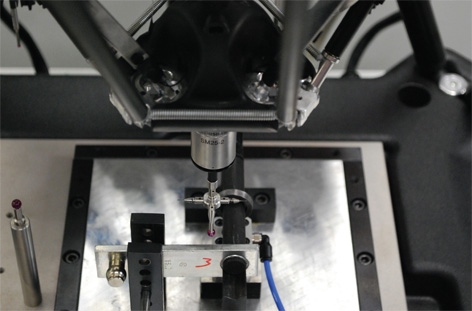 Designed for inspection of high-volume manufactured parts, the Equator has the ability to measure nearly any feature on a particular part and can achieve throughputs close to those obtained using hard gauging devices. It has a maximum scanning speed of 100mm/second, which Blackmore claims is approximately five times faster than the average CMM.
In addition, the Equator can also be re-programmed in just a few minutes for any component design changes - a significant benefit over existing custom gauges, Blackmore added.
The equator has the ability to measure nearly any feature on a particular part
The Equator's highly repeatable gauging technology is based on the traditional comparison of production parts to a reference master part. Renishaw believes that re-mastering is as fast as measuring a production part and immediately compensates for any change in thermal conditions of a shopfloor environment.
Customers using the software-driven Equator will find it hard to go wrong with this simple and easy-to-use measuring tool. The system is available with two levels of software: a programmable version for production engineers to create DMIS programs; and a lower-price, shopfloor system that allows those programs to be executed but prevents operators from making modifications.
If a manufacturer needed to measure, for example, 10,000 components that are about to enter a production run, they would need to obtain exact measurements from a CMM in the first place.
'The CMM tells you the exact dimensions for that part and allows what we call a calibration file to be generated, which is then uploaded onto Equator's controller,' explained Blackmore. 'The equator does its own measurement of the part and compares the difference to the calibrated file to determine how its measurements correspond with the CMM. From that it takes its own errors out and measures the remaining parts repeatedly so you know straight away whether it's a good or a bad part.'
According to Blackmore, the unique selling point of Equator is its ability to process lots of parts. 'While the machine itself is not an overly accurate machine in comparison with a CMM, it is very repeatable. That means you measure part-for-part the same features and it gets it right every time.'
The Equator makes contact with various points on a part using a spherical ruby ball attached to the end of a touch probe. 'To do metrology work it's better to use a sphere so you've always got the same distance from the centre,' explained Blackmore.
In addition, unlike many measuring devices, the Equator can operate on the shop floor at room temperature. When parts are exposed to varying temperatures they can expand and contract, which means that some measuring tools can only operate in environments where there is a fixed temperature. However, Equator's relatively high tolerance means it can accommodate any changes in size that occur due to varying temperatures.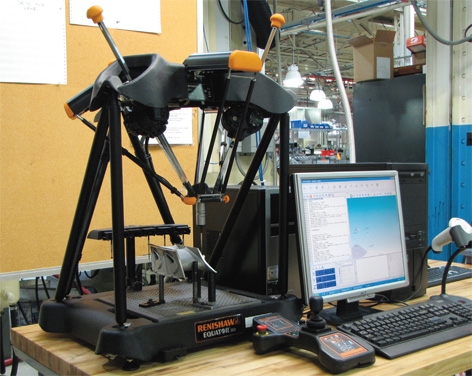 The Equator uses a 'go-no-go' gauge to determine which parts are fit for production and which parts need to be reconsidered or even scrapped.
The Equator has been on sale since March last year and has been very popular with a wide range of companies according to Ben Spokes, Renishaw's sales and marketing manager.
'In addition to the automotive and aerospace sectors, we're working with quite a number of people on the medical side,' explained Spokes. 'They are gauging thousands of parts a day and in that case you're looking at measuring parts that are often free-form shapes in addition to strict geometric prism shapes.'
Medical companies are using Equator to measure parts that are often freeform shapes in addition to strict geometric prisms

Ben Spokes, Renishaw
The £20,000-£25,000 piece of equipment is usually sold to distributors, who then package it up as an entire system and sell it on to buyers. But Renishaw said it also sells the Equator product directly to customers themselves on the odd occasion.
One customer using the Equator is FGP Precision Engineering. The company primarily manufactures components for aircraft in both the commercial and military sectors. For example, FGP makes the APUs for Airbus's A320 and A380 and the actuators for the US military's Black Hawk helicopter.
Allan Edwards, chairman of FGP Precision Engineering, said his company is using the Equator to speed up the production process and reduce the amount of work that needs to be done by human inspectors. He explained that using the Equator can cut measuring times from one hour down to four minutes.
'The envelope that the Equator measures in is only 300 x 300mm. I would say that's quite small and we certainly produce bigger parts,' said Edwards. 'If the company could make it go 1 x 1m it would be great.'
The initial success of this new form of measuring gauge shows the demand is there for a tool that can measure parts relatively accurately at speeds greater than those achieved by CMMs but without the costs associated with hard gauge measuring machines. Renishaw's first step into the gauging market is a bold leap that seems to be paying off.
industrycomment
Dr Brian Bowsher of NPL says that measurement is essential
Measurement is an important and often overlooked area within engineering that helps contribute billions to the UK economy.
Dr Brian Bowsher, managing director of the National Physical Laboratory (NPL), said: 'Measurement is often overlooked but without it we wouldn't be able to live our lives as we do. Advances in measurement have led to innovations such as high-speed digital communications, GPS and satellite technology. NPL has even measured materials in Formula One cars, lighting effects on old masters and the crunchiness of biscuits. Measurement helps contribute billions of pounds to the UK and global economies every year.'
The NPL 20/20 Vision report predicts how the metrology industry will look in the 2020s. It anticipates that technological progress within the sector will be driven and constrained by the need to achieve: a sustainable low-carbon economy; scientific discovery, innovation and R&D-intensive growth; and the wellbeing and security of people.
casestudy
Automotive component manufacturer Eponsa has been able to speed up its quality checking processes using the Equator
Eponsa, a manufacturer of automotive components located near Barcelona, Spain, is using the Equator to check the quality of stamped parts and assemblies at significantly quicker speeds than those achieved by their previous measuring gauges.
Eponsa said: 'Equator could reduce or eliminate quality room waiting times. This is because Equator can be used on the shop floor, alongside the machines producing the parts, and with the low purchase cost we can have several Equators positioned where we need them. We plan to have Equators alongside the stamping area and in the area for assembling mechanisms, where they will be particularly important. The speed of operation and measurement capability of Equator will ensure rapid, comprehensive and fully automated gauging.'
The company is welcoming the introduction of the Equator onto the shop floor because it will reduce the workload considerably. Eponsa operators are inspecting thousands of parts every day, using documented procedures. Visual checks are done to ensure holes are present and that there are no cracks in the material, followed by dimensional measurements with hand instruments such as callipers and plug gauges. However, measurement with hand gauges is time consuming, repetitive and all down to the skill of the operator, and as a result there is a risk that the inspection process can go wrong.
casestudy
Meyer Tool has been able to replace four hard gauges with one Equator and anticipates significant cost savings as a result
Meyer Tool, a US aero-engine component manufacturer, is using Renishaw's Equator to cut the costs associated with owning and using numerous hard gauges.
With more than 100 hard gauges costing £5-£12,000 each through its facilities, Meyer Tool has high expectations that Equator will significantly reduce the cost burden as one Equator can instantly replace four hard gauges.
Beau Easton, quality manager at Meyer Tool, said: 'That's just the beginning of the impact the company anticipates for its inventory of custom hard gauges, which can cost up to $20,000 (£12,500) each to design, build and maintain. Down the line, design changes can add another $3,000 (£1,900)-$10,000 (£6,300) to re-configure and qualify an existing gauge.'
The Equator system is currently assigned to a lean machining cell in Meyer's tool shop, where it is integrated with Meyer's Orion SPC system so that a familiar look is maintained for machinists and the learning curve is shortened.
'We got involved with Renishaw's introduction of the system and provided parts. Renishaw programmed them, and the results matched our co-ordinate measuring machine (CMM) results,' said Bridget Nolan, SPC manager, whose group sets up, maintains and programs the company's gauges, fixtures and instruments.