Amid the glittering corridors, shining glass and the dazzling array of vintage racing cars at McLaren's Woking headquarters, there's one division that has very little to do with cars. Charged with taking McLaren's edge on the circuit (and, more recently, the road) and using it in other sectors, McLaren Applied Technologies (MAT) aims to make the best use of the philosophy so respected in the pit lane. 'I want to surprise people with where we pop up,' said managing director Geoff McGrath. 'The specialities we have here have applications in all sorts of areas.'
McGrath has taken a roundabout route into McLaren; motorsport is one of the few areas in which he hasn't worked, although in some ways he sees his career as coming full circle. 'My PhD was in fluid mechanics, applied to gas-cooled reactors, and in that I used laser-doppler anenometry, which was fascinating because it taught me to work in wind tunnels and use lasers,' he said. 'And that's exactly what we use here to develop our cars - but I was working on early prototypes of the same systems in the 1980s.'
McGrath's expertise has taken him into the process, chemical, aeronautical, nuclear and petroleum sectors, before a period working in the mobile internet field. 'And then I came right back into this place, which is highly skilled engineering technology, and still adapted quite well,' he said. 'It's a testament to how portable mechanical engineering can be.'
We have to be the best at whatever people do; we have to take people to a new level of performance
MAT has grown from a small core of people working on special projects within the company. The idea, McGrath said, is to look for ways in which McLaren's particular strengths, forged on the Grand Prix circuit and in other areas of motorsport, can be applied to other areas. 'But this is McLaren, so everything we do here has to be the equivalent of winning. We have to be the best at whatever we do, we have to take people to a new level of performance and we have to be the first to do so.'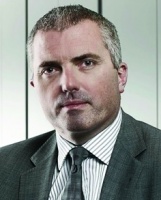 geoffmcgrath biography
Managing director, McLaren Applied Technologies
Education
1987 BSC (Eng) in mechanical engineering, Queen Mary College (QMC), University of London
1991 PhD in fluid mechanics, QMC
2001 Diploma in management of technological innovation, Madrid University Polytechnic
Career
1989 Lecturer in mechanical engineering, QMC
1992 Manager for consulting services, BHR Group
1995 Senior consultant, Petróleos de Venezuela
2000 Senior manager for strategic business development, Openwave Systems
2005 UK managing director, July Systems
2008 Vice-president for global market development, Acision
2009 Managing director, McLaren Applied Technologies

Q&A Britain's got talent
Does MAT also apply McLaren's engineering know-how?
Anybody who comes to McLaren as an engineer assumes that we pride ourselves on engineering and design. We've learned that our design techniques and philosophy are quite novel, and we tend to produce results that are as technically excellent as they are iconic in terms of the finish and finesse.
What sort of projects have you been involved in?
The two engineers who designed the skeleton bob that Amy Williams won a gold medal on in 2010 now work for McLaren and designed a new skeleton for the Junior Winter World Championships on which Lizzy Yarnold won gold in January. It's great for us: we get two very talented individuals, funded by UK Sport, immerse them in a McLaren environment and watch the sparks fly.
Have there been other collaborations like that?
We started with a challenge from Specialized to reduce weight in its Venge road -bike frame. We're set up for light weight, especially in carbon fibre, so we exceeded the target and shared manufacturing techniques - we went to the factory where the frame was built and worked with the people there.
So does that work like consultancy?
It's not quite the same. Our work stops with design and support for manufacture - it's up to Specialized to move on from that. But we consider it an ongoing relationship and that's reflected in the revenues. There's an ongoing stream of sharing in the value of what's taken to market.
How far do you think motorsport can spread its influence in UK industry?
It depends; if it's applying only racing technology it's far more limited. The rate of generation of IP that's applicable outside the racing world is probably not as fast as you'd think. Racing is a well-defined area and it's a race of optimisation throughout the season, but that's not a good arena to develop technology to do with health and other sports. You have to have a conscious eye to apply kernels of IP from racing that couldn't come from anywhere else and marry that with technologies from outside. I think to position yourself as a purely race-tech company serving other areas is pretty limited.