Power, agility, comfort and a bargain price make the McLaren 720S possibly the best all-round supercar ever made
Even in this age of spiralling power outputs, the McLaren 720S packs a particularly formidable punch. Sure, there are a handful of multimillion-pound hypercars that can outdo its prodigious 720 PS (710 bhp) output, but this is a proper production model, aiming to shift a not-inconsequential 1,500 units this year.
Unlike the 720S's big brother, the McLaren P1, there's no hybrid assistance here. All that grunt comes from a 4-litre twin turbo V8. And unlike the Lamborghini Aventador or the Porsche 918 Spyder, there's no four-wheel drive system either: it's all channelled through the rear wheels.
That's a slightly sobering thought when you go to thumb the starter button on a cold, damp morning. By rights, it should be terrifying.
The V8 fires instantly and settles into a racy idle. It's a development of the 3.8-litre unit found in the old 650S, but McLaren claims that more than 40 per cent of the engine is new. The increased capacity comes from a 3.6 mm increase in stroke, but lighter internals and ultra-low inertia twin-scroll turbochargers mean this engine reacts even quicker than its predecessor.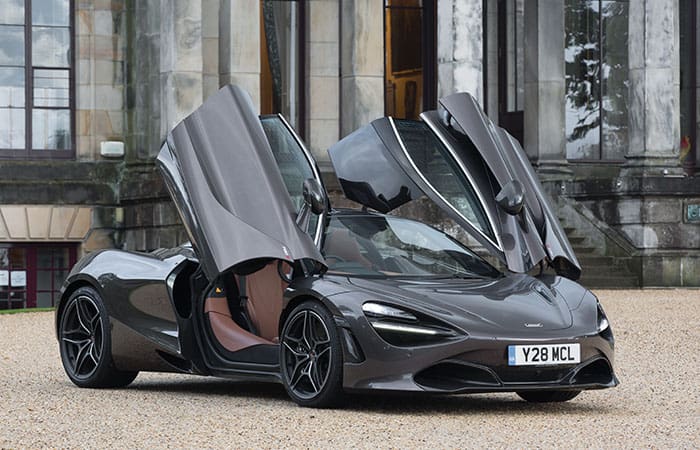 There's still a hint of turbo lag, but keep the revs up and the power delivery is crisp, linear and seemingly unending. It's hard to describe the sheer ferocity of the 720S as it lunges towards the horizon, but what's more surprising is how exploitable it feels. True, the electronics will intervene if you're silly, but pick your moments and it is possible to experience the full warp-speed effect on a British B-road, albeit only for a second or two at a time. In that sense, you could say the 720S delivers just the right amount of excess; it feels otherworldly in its performance and yet – remarkably – there are still opportunities to tap into this potential on the road.
A plethora of technology helps to make this possible. For a start, the chassis is a full carbon fibre monocoque, which now includes the roof and part of the rear structure. The resulting assembly is some 18 kg lighter than the 650S tub and it contributes to a 3 per cent reduction in the centre of gravity height. In total, the 720S tips the scales at 1,283 kg (dry) – an impressive achievement for a comfortably trimmed road car with a large capacity V8.
This structure is also incredibly stiff, providing a stable platform for the suspension, which follows a conventional layout with double wishbones and coil springs on all four corners. Beyond that, however, things start to get rather more unusual.
As with its predecessors, the 720S features a sophisticated system of hydraulically interlinked active dampers. This uses a network of sensors and an algorithm based on optimal control theory to change the pressure in each of the dampers, with a response time of less than 2 milliseconds. The end result is that the roll response can be decoupled from the ride, doing away with the need for traditional anti-roll bars.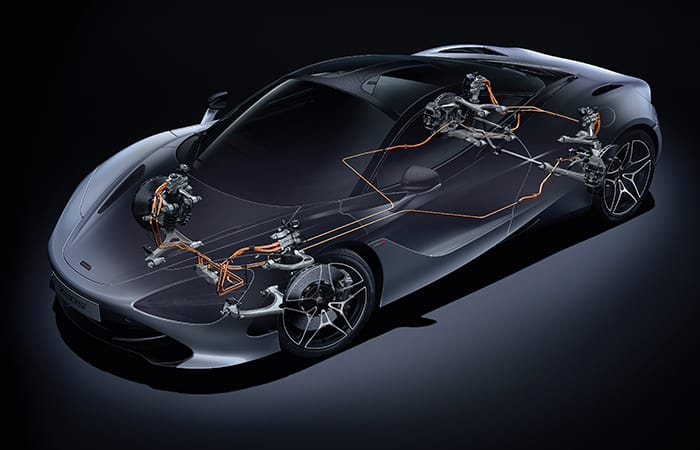 You only need to drive the superb 570S to see how adept McLaren is at setting up traditional passive suspension systems, but the active set-up takes things to a whole new level. It glides over broken tarmac with the finesse of a luxury saloon, yet even in the softest of the three chassis settings, there's remarkably little body roll.
On roads where a lot of performance cars would skip and fidget, the 720S retains a supernatural blend of agility and composure. Even in its more aggressive modes, there's enough compliance to provide phenomenal traction, yet sufficient roll stiffness to prevent any unexpected weight transfer. It's one of the factors that, when taken together, make the McLaren feel so friendly to drive.
Another is the steering. At 2.5 turns lock-to-lock, it feels very direct but never nervous or darty. And while most manufacturers are turning to electric power assistance for its efficiency benefits, McLaren has stuck with a more driver-focused hydraulic set-up. The result is a beautifully detailed stream of feedback fed straight to your palms.
One of the most impressive things about the McLaren's driving experience is that it still feels special at low speeds, and not just thanks to the sense of theatre that you get from piloting a supercar. You could drive it all day – never once using more than a quarter of the engine's potential – and still revel in the sense of connection that comes from that beautifully resolved chassis.
But delve deeper into its capabilities and the 720S feels sensational. It scythes through the air with twice the aerodynamic efficiency of the 650S, thanks to a raft of clever new features. The dihedral doors, for instance, are double-skinned, with internal channels that feed twin side-mounted radiators. This removes the need for visible side air intakes, adding to the shrink-wrapped appearance of the carbon fibre body panels around the car's waist. Meanwhile, the teardrop canopy shape – made possible by the engine's exceptionally low deck height – reduces drag and helps to smooth the airflow to the rear wing.
It's here that the 720S plays its party piece. While the active rear wing concept is inherited from its predecessor, the new full-width aerofoil is said to deliver up to 30 per cent more downforce. Controlled by a pair of hydraulic actuators, it can trim its angle of attack to vary the level of downforce or even flick upwards to provide an airbrake function. It's a brilliant piece of automotive sculpture, as well as a highly effective aerodynamic device.
From a technological perspective, however, you could argue that the 720S's greatest triumph is not its outright performance but how effortlessly it blends that with the realities of everyday life. At a relaxed pace, it's no more taxing to drive than a family saloon. Under those circumstances, the seven-speed dual clutch gearbox will happily shuffle the gears seamlessly in the background. Similarly, wind and road noise are well suppressed; the Bowers & Wilkins stereo (complete with exposed Kevlar speaker cones) works beautifully; and unlike most mid-engined supercars, the canopy of the 720S offers almost 360-degree visibility.
That's not to say it's perfect. While the twin turbo V8 is a hugely effective power plant, it's still not the most expressive unit. In fairness, McLaren does offer a sports exhaust option that we've yet to sample, but the standard car simply can't match the orchestral qualities of the Ferrari 488 GTB's twin turbocharged V8, let alone a Lamborghini V12.
In every other respect, though, the McLaren feels sublime. It's outrageously fast and stunning to behold, but it's also genuinely engaging at lower speeds. Strange as this may sound, it's something of a bargain too. When the limited edition P1 went on sale in 2013, it would have set you back £866,000. Rumour has it that the 720S is every bit as quick in the real world, yet it starts at a comparatively affordable £208,600. Put it all together and you have quite possibly the best all-round supercar ever made.