Giving a European conference keynote speech alongside officials from Philips, SNCF and NASA isn't in the job description of most 24 year olds. But then most people of that age haven't invented a technology that could make kinetic energy harvesting a part of our daily routine. Fast forward a year and Laurence Kemball-Cook and his company Pavegen have received their first commercial order for electricity-generating pavement slabs from Europe's largest urban shopping centre - Westfield Stratford City, next to the Olympic site in London.
Starting with an idea he had while on placement at one of the world's largest energy companies during his industrial design degree at Loughborough University, Kemball-Cook has developed a way to power urban street lights and signs from people's footsteps. In just three years he built a company whose products are soon to be seen in cities around the world. How did he do it? As for most entrepreneurs, his answer is: with a lot of hard work. At a time when his fellow graduates were learning what life in a company was like, he was toiling away in an office in Coventry without so much as a co-founder.
'Obviously it was quite strange when they were all getting their jobs and I was stuck in an industrial estate on my own, working flat out, not sleeping, just working, working, working,' he said. 'At the early stages that's really tough. It's quite a lonely role because I'm taking it all myself.'
But he also had an advantage, having won £5,000 from the Royal Society of Arts in an international design competition, which enabled him to gain an early experience of the business world. 'While other students were mocking up things in wood, I was working with manufacturers to do it. And then we got more funding in so we were doing small batch runs of five or so to test it in different ways.'
However, sometimes Pavegen still had to improvise. "We were taking it into schools and busy town centres, doing guerrilla research. I've been chucked out of a few bus stations and run around Oxford Street, throwing green slabs on the floor just to see whether people want to walk on them."
Luckily, the answer was yes. From the start, Kemball-Cook felt that involving people in the energy-generating process was key to getting the product right. That is why the slabs, made from recycled rubber and polymer concrete, feature a central LED that lights up when someone walks over it.
He is keeping tight-lipped about the technology that creates the electricity and stores it in a battery. But he told The Engineer that it was different from other kinetic energy-harvesting systems based solely on piezoelectricity, which he found to be something of a dead end.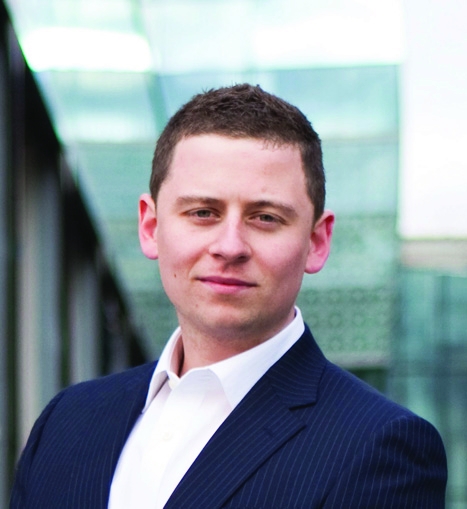 'Piezo relies on high spikes,' he said. 'We know the gap between those spikes makes it very hard to give a constant flow of energy. What our technology does is reduce those gaps and give you more of a constant flow of power.'
Pushed for more information, he said: 'It's a hybrid solution; something that can effectively capture [and store energy] after it's been converted and be delivered in to a regulated 12V feed. It's similar to piezo in as far as when people walk on a slab it deflects the top sheet by 5mm, and the movement is converted to electricity.'
Positive media coverage also helped the company in its early stages. Exhibiting at the New Designers graduate show in London led to a slot on ITV's London Tonight and follow-up pieces in national newspapers.
"There is help out there but it's hard for someone who's made the decision to be an entrepreneur"
Days later, Kemball-Cook founded Pavegen as a company and set about seeking funding from anyone he had a vague connection to. As the 2009 recession was still in full swing, this wasn't easy and he found that, even before the election of the current government, organisations such as the Regional Development Agencies were, in his words, 'filtering out'. But the difficulties he met weren't just due to the economy.
'There is help out there but it's really hard for someone who's made the decision to be an entrepreneur to suddenly have access to all that,' he said. 'When you start out without that network around the industry it's hard to know about grant funding and competitions. Even the Knowledge Transfer networks, I didn't even know they existed and I didn't know about the [Technology Strategy Board], because how do you at that stage?'
But he did have access to entrepreneurial training from his university, and feels young people starting a business would benefit if there was more of it. 'I think there need to be easier ways for people to get funding for their initial ideas. We're not talking a lot of money here. I think £1,000 in [the] early stage can go a long way. And often you get more value out of that £1,000 than you can out of putting £50k into a bigger company because it's still so early on.'
Two years later and Pavegen's company of 12 engineers and an experienced board of directors appears to be in a very strong position. The team will be helped by the Westfield contract and partnership with another high-profile London development in 2012 that Kemball-Cook can't yet talk about. There's also a deal with drinks manufacturer Diageo that will see Pavegen slabs in cities around the world, from Brazil to Vietnam.
At this stage of development, it's hard not to wonder whether these deals are just good publicity for the sponsoring company, rather than a demonstration that the technology is financially viable. Kemball-Cook argues that Pavegen provides both a practical solution for their partners and a way to get behind green technology.
'I think we're on the tip of the iceberg compared to what is possible with it.'
'With Diageo, we're putting together a package where five slabs will power street lights all night long,' he said. 'It shows that it's not just possible in a lab but in a way that millions of people can take part and see for themselves.'
Aren't costs still a big issue? 'Eco-efficiency will be worth about $4bn [£2.6bn] by 2021 so there's going to be significant investment in the industry. As we commercialise it and use new materials we anticipate our unit cost dropping substantially to a point where it's on par with the cost of a normal paving slab.'
And that's by no means the end-point for the Pavegen technology. 'I think we're on the tip of the iceberg compared to what is possible with it. Everything from shrinking the technology to powering consumer devices that could be embedded within clothing. This is just the beginning within the renewable sector.'
Laurence Kemball-cook
Biography
Founder and managing director, Pavegen
Education
2009 First-class bachelor's degree in industrial design and technology from Loughborough University
Career
2009 Founded Pavegen following placement with one of the world's largest energy companies
2010 Winner of Loughborough University Enterprise award for the commercialisation of Pavegen technology
2011 Pavegen nominated for The Brit Insurance Designs Awards as product of the year alongside the Dyson Airblade and the Apple iPad
2011 Pavegen won the Big Idea category of the Observer Ethical Awards
2011 Won the Studio East Westfield Environmental Award and contracted to supply Pavegen slabs for the Westfield Stratford City shopping centre near the Olympic Park in London
Q&A Best foot forwards
How much of a business challenge is your relative youth?
When you're working with people who are 20 or 30 years older than you, of course you've got a huge barrier. I wondered whether I should dye my hair grey. There is a barrier but we've learned from mistakes. I'll go out to a manufacturer and I'll get what I want and they'll do it at the right quality as I've been screwed over by them in the past and you've got to make them accountable for everything.
Why have you been testing Pavegen in schools?
Schools are a great way for people to learn about energy efficiency. We've gone out of our way to move into that area, not for profit, just to show what can be done and hopefully inspiring [the] next generation of students. Every day for the past year the schoolchildren have devoted their lives to destroying it. It's just part of the validation of our design. You could do it in a lab but that would never be the same as an 18 year old who really wants to hurt it.
Why is it important to base manufacturing in the UK?
The UK has a huge manufacturing heritage and it's sad to see the decline related to lower costs in Asia, but now we're seeing those markets demand more and they can't produce units at same cost they used to. Combined with increasing freight costs, there's more of an opportunity for manufacturers. People don't realise the UK is exporting all around the world, some high-tech manufacturers are doing amazingly well. When combined with clever design there's a good demand to stay here.
How well is the government doing in encouraging UK manufacturing?
The Enterprise Investment Scheme jumped from 20 per cent tax relief to 30 per cent right as we were going for our funding round. A tax jump of 10 per cent is unheard of. Things [such as] the Technology and Innovation Centres are really encouraging because you can see the value of what we've got here. But one of the most worrying things is that they're trying to scrap design and technology as a compulsory subject in our schools. Technology can inspire people and change [the] world, and if they're not inspired by it then why wouldn't they go and get a high-paying job in the City?