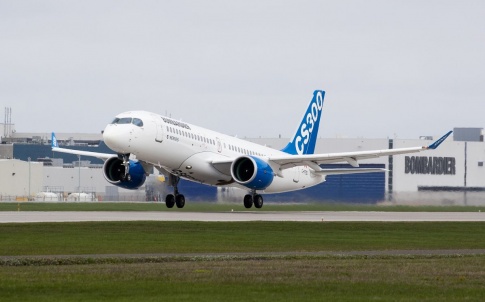 Under the agreement, Airbus will acquire a 50.01 per cent stake in the C- Series Aircraft Limited Partnership (CSALP) whilst Bombardier will own approximately 31 per cent of the business.
Whilst Airbus has acquired its stake without handing over any money, access to the aerospace giant's supply chain expertise and global sales reach is expected to generate considerable production cost savings for the C-Series and enable access to new markets.
The deal also cements Airbus' stature in the growing market for single aisle aircraft which represents 70 per cent of the expected global future demand. The 100 – 150 seat C Series is considered to be highly complementary to Airbus' existing single aisle aircraft portfolio, which focuses on the higher end of the single-aisle business (150-240 seats).
The deal is welcome news for Bombardier in the wake of the recent decision by the US department of commerce to impose import tariffs of 300 per cent on the aircraft (this was increased from an initial tariff of 220 per cent), and could help protect up to 1000 jobs at Bombardiers' Belfast plant, where the wings for the C-Series jet are manufactured. The partnership is also expected to secure jobs at the main C-Series assembly site in Quebec, Canada.
The decision was welcomed by Unite, the UK's biggest union, which said that it had received assurances that employment associated with manufacture of C-series wing will remain in Belfast. "This is a welcome development," said Unite's regional coordinating officer, Davy Thompson, "one that gives 'breathing space' to the C Series itself and which we anticipate should safeguard the future of C-Series production jobs in Belfast for the foreseeable future."
Meanwhile, Airbus CEO Tom Enders hailed the deal as "win win for everyone".
"Not only will this partnership secure the C Series and its industrial operations in Canada, the UK and China, but we also bring new jobs to the US," said Enders. "Airbus will benefit from strengthening its product portfolio in the high-volume single-aisle market, offering superior value to our airline customers worldwide."
Despite this, there are some reservations about the deal, which will see aircraft destined for the US market and assembled at the Airbus plant in Mobile, Alabama.
The UK's GMB union has warned that the decision may be viewed by the US administration as an attempt to dodge trade tariffs. "This sounds like potentially good news for our members in Belfast," said GMB National Officer Ross Murdoch, "But, as always, the devil will be in the detail. "GMB hopes both Bombardier and Airbus have taken cast iron legal advice to ensure they don't get rid of one legal challenge only to open themselves up to another."