A six-inch robotic spy plane modelled after a bat would gather data from sights, sounds and smells in urban combat zones and transmit information back to a soldier in real time.
That's the US Army's concept, and it has awarded the University of Michigan College of Engineering a five-year, $10m grant to help make it happen. The grant will be used to fund researchers working at the newly formed U-M Center for Objective Microelectronics and Biomimetic Advanced Technology, or COM-BAT for short.
The University of Michigan researchers will focus on the microelectronics for the plane, developing sensors, communication tools and batteries for the micro-aerial vehicle. Engineers envision tiny cameras for stereo vision, an array of mini microphones that could home in on sounds from different directions, and small detectors for nuclear radiation and poisonous gases.
Low-power miniaturised radar and a sensitive navigation system would help the bat find its way at night. Energy scavenging from solar, wind, vibration and other sources would recharge the bat's lithium battery. An on board radio would allow the plane to send signals back to troops.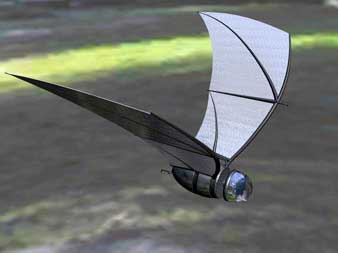 Engineers envision a six-inch, robotic spy plane modelled after a bat that could gather data and send it back to soldiers in real time
'These are all concepts, and many of them are the next generation of devices we have already developed, ' said Kamal Sarabandi, the COM-BAT director and a Professor in the University of Michigan's Department of Electrical Engineering and Computer Science.
The bat robot's body would be about six inches long. It would weigh about a quarter of a pound and use about 1W of power.