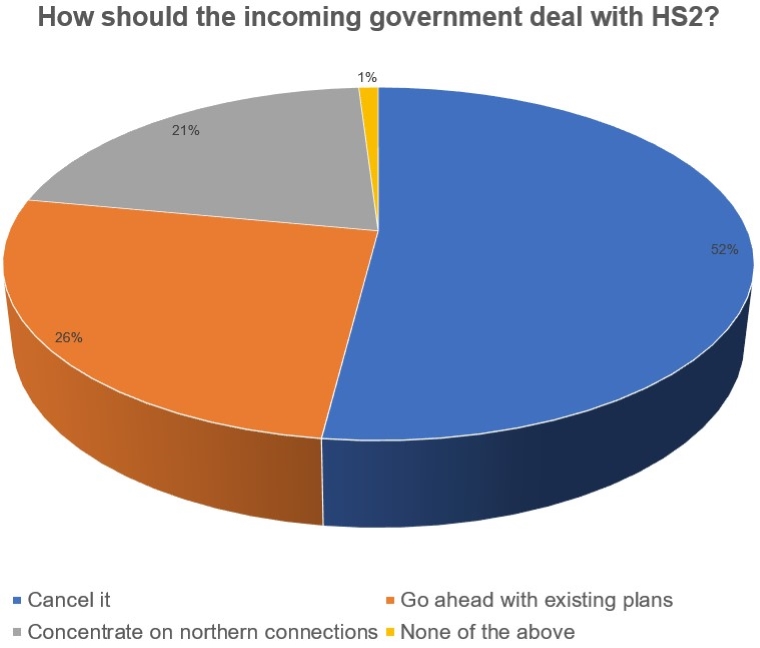 A total of 3,555 respondents took part in the poll, with just over a quarter (26 per cent) believing the project should go ahead, followed by 21 per cent who believe HS2 should be concentrated on connections in the north. One per cent of the poll opted for 'none of the above'.
Of those wanting to see HS2 go ahead, Gandy said: "It's a good job the Victorians didn't worry about it how it would cost years ago. If they did, we would not have any railway. So, let's just get on with it."
Parliament 'misled' over cost of HS2
Five train-builders make shortlist for £2.75bn HS2 contract
HS2 contracts worth £6.6bn announced
"If the PM and his new government are serious about delivering prosperity to the Midlands and the North, while at the same time achieving a real reduction in carbon emissions, there is only one credible course of action – press ahead with HS2 Phase 1 and bring forward Phase 2a and 2b. It's a no-brainer," added Carl Shillito.
"With Boris Johnson getting a private briefing last summer from the Oxford University Business School that HS2 would cost £110bn and the Chairman of the National Infrastructure Commission Sir John Armitt saying that it's going to cost £43bn to connect HS2 to local transport networks it's getting far too expensive," said Steve Leary, adding a thought around the cost conundrum that was brought into focus yesterday (January 6, 2020) by Lord Berkeley, the former deputy chair of the Oakervee Review commissioned by the government to evaluate the future of HS2.
In his dissenting report, Lord Berkeley stated that parliament has been 'misled' over the cost of HS2, which is now estimated to be around £107bn.
"You can guarantee the actual cost will be closer to £250bn," said The Engineer reader Mark via the poll's comments section.
What do you think? Should the budget for HS2 be directed toward improving existing services (as many readers believe), or will the end result justify the disruption that big ticket projects inevitably cause? Let us know in the comments section below, but please take a look at our guidelines for the content of comments before submitting.