Lifting off from Abu Dhabi, Solar Impulse 2 (Si2) has embarked on route to Muscat, Oman in phase one of a journey that will see the aircraft fly over the Arabian Sea, India, Myanmar, China and the Pacific Ocean.
Flying for 25 days over the course of approximately five months, the single-seater carbon fibre aircraft will then cross the Atlantic Ocean, with the final legs that include a stop-over in southern Europe or North Africa before completing the round-the-world flight at its final destination in Abu Dhabi, Solar Impulse's official host city.
Mission pilots and Solar Impulse founders Bertrand Piccard and André Borschberg will share flying duties during the mission and will join with project partners during 12 scheduled stops at public events for governments, schools and universities that will promote clean technologies.
In flight, Piccard and Borschberg will have to occupy an unheated, non-pressurised cockpit with a volume of 3.8m3 and endure external temperatures ranging from -40 to +40 degrees Celsius.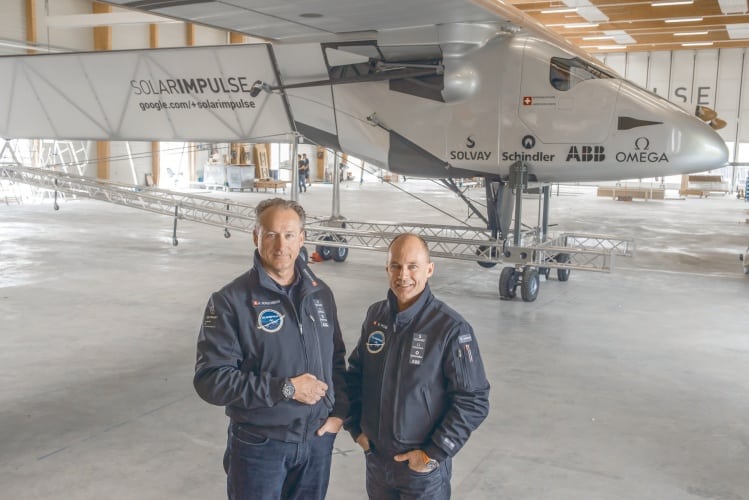 Paul Barwell, CEO of the UK's Solar Trade Association, said: 'This shows the power of solar technology: simple, clean and becoming ever more efficient.
'Solar Impulse 2 is also a trailblazer for the combination of solar and battery storage – the onboard battery allows the plane to charge up during the day and keep flying through the night.'
Si2, described as an airborne laboratory developed by a multidisciplinary team of 80 specialists and more than a hundred partners and consultants, builds on the achievements of Si1, which holds eight world records including three duration milestones set in 2010.
Click here for technical specifications and in-depth content covering Solar Impulse. 
Solar Impulse timeline:
1999: Following his round-the-world balloon flight, Bertrand Piccard sets himself the challenge of flying around the world once more, but this time without the use of any fuel or polluting emissions
2003 : Launch of Solar Impulse after a feasibility study conducted by André Borschberg at the EPFL (Swiss Federal Institutes of Technology)
2007:  Construction of the first prototype begins
2009 : Official unveiling of the first airplane: Solar Impulse 1
2010:  First ever day and night (26 hour non-stop) solar-powered flight above Switzerland, 3 world records broken including duration
2011: Flight to Brussels at the invitation of the European Parliament, and guest of honour at the Paris Bourget International Airshow  
2012: First intercontinental flight using solar power, from Switzerland to Morocco under the King of Morocco's patronage, 2 distance world records broken  
2013: Flight across America from San Francisco to New York in 6 steps 3 distance world records broken
2014 : Maiden Flight of the round-the-world airplane: Solar Impulse 2 (Si2)
2015 : Attempt of the First Round-The-World Solar Flight in stages from Abu Dhabi (UAE) heading towards east over a 5 month period