Patients who need physiotherapy following a stroke or accident could soon be put through their paces in a virtual reality environment.
A researcher at Portsmouth University is creating a rehabilitation system that places patients on a treadmill and into a virtual world.
It works by using moving images to trick patients' brains into thinking they are walking more slowly than they are, which in turn encourages them to walk faster and further.
Early results also suggest that patients using virtual rehabilitation may experience less pain than traditional physiotherapy alone.
Wendy Powell, a PhD student in the School of Creative Technologies, developed the software for the system, which works in conjunction with a specially adapted treadmill.
Clinical trials on real patients are taking place in collaboration with experts at McGill University in Canada where early results are encouraging.
A former chiropractor, Powell hopes it will pave the way for a new and innovative approach to physiotherapy.
She said: 'The environment is stimulating and entertaining and there's less fear of falling over. Our test subjects are usually surprised when I tell them they've improved by up to 20 per cent.'
Powell hopes the system will also help older stroke patients, who often find traditional approaches to improving their speed and distance difficult because it relies very much on self-motivation.
Powell's system uses a variety of different images from urban landscapes to forest and mountain scenes. She has built a system of rewards into some of the programs, which encourages the patient to pick up objects and collect points. She said that older people were not at all put off by the 'computer game' element but seemed to enjoy it.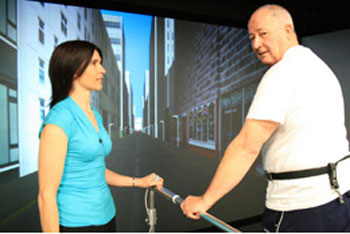 Andy Long, 61, a stroke survivor who has tested Powell's system, said: 'The vast majority of stroke survivors cannot use a normal treadmill because they are not in control and many can only hold on with one hand, making it almost impossible. Walking is the best possible exercise for their bodies and this system would help enormously.'