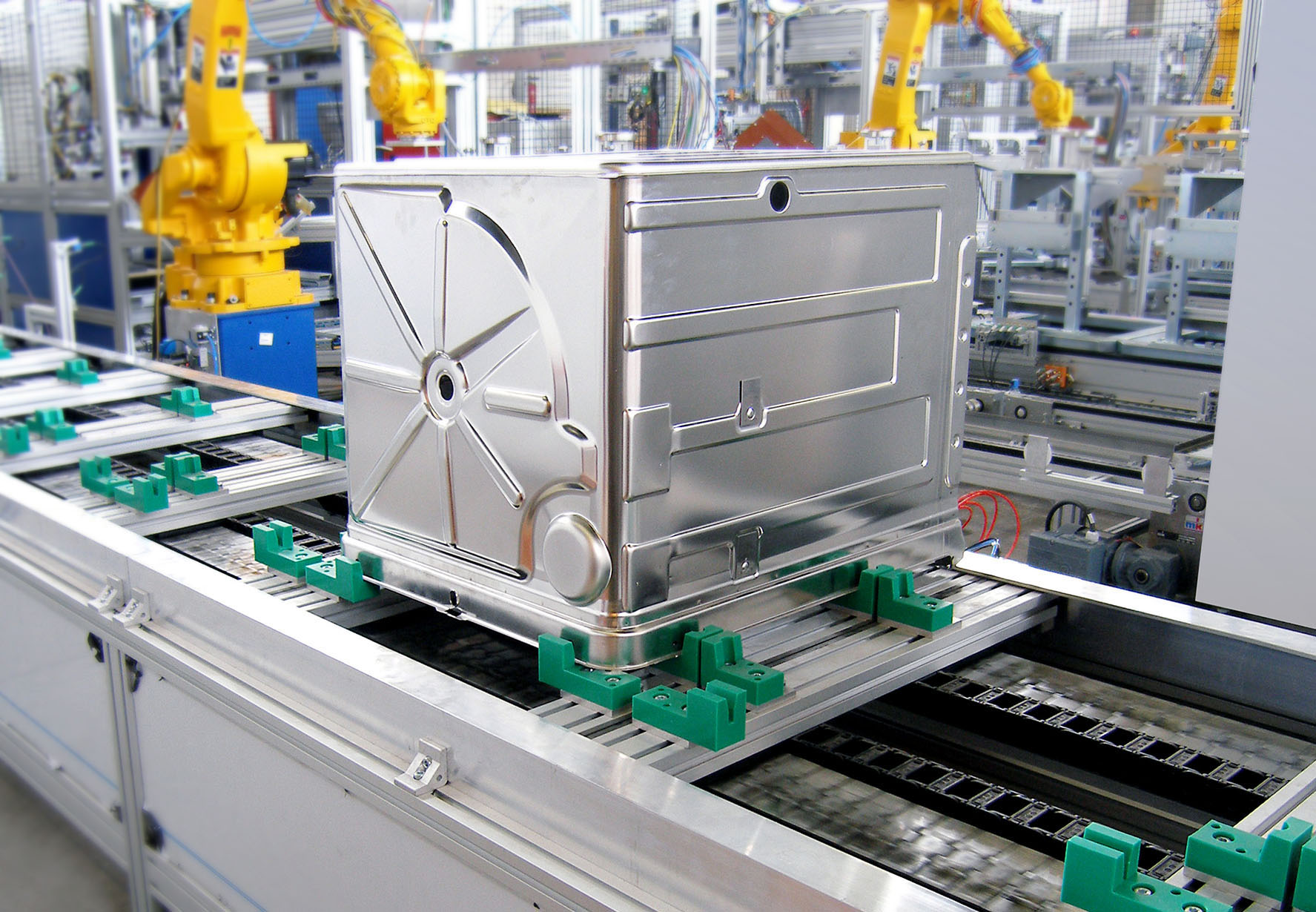 The accumulating pallet recirculation system SPU 2040 enables cost-effective and dynamic feeding, buffering, positioning and separating of workpiece pallets (WT). In this application the SPU provided the perfect solution for transporting the housing of dishwashers for a leading German white goods manufacturer.
When linking multiple cycle or changeover times the SPU 2040 allows a countercyclical operation with automatic recirculation of the workpiece. A flat top chain carries the workpieces on the WT to the assembly plant. After removal of the workpieces the empty pallets are safely carried over the return roller and then conveyed back on the underside of the conveyor. They are then once again available at the starting point of the conveyor waiting to be loaded with new workpieces. A second conveying level and devices for lifting and lowering with complex control elements are no longer required. No additional manual or automated loading of pallets in necessary either.
In this particular application the SPU will equalise and buffer each dishwasher housing carrier between two machines through the process of becoming a welded unit and a fully assembled unit. There is also a requirement to stop the carriers for optical inspections via image processing and for mounting further components.
Although the SPU is available as both a single and dual lane solution, due to the size of the dishwasher housing (approximately 800 x 600 x 400mm) a double lane solution was provided in this instance. Additionally the carriers consist of two parts, to ensure navigation around the return roller.
The SPU 2040 is very compact in comparison with other systems on the market so meant low space requirements for this appliance manufacturer. It also offers the benefit of good ergonomic properties for workers who place or remove the dishwasher housing from the system.
Due to the proven mk modular design the SPU 2040 is adjustable so can be further enhanced or adapted as the white goods manufacturer's production requirements grow or need adapting.