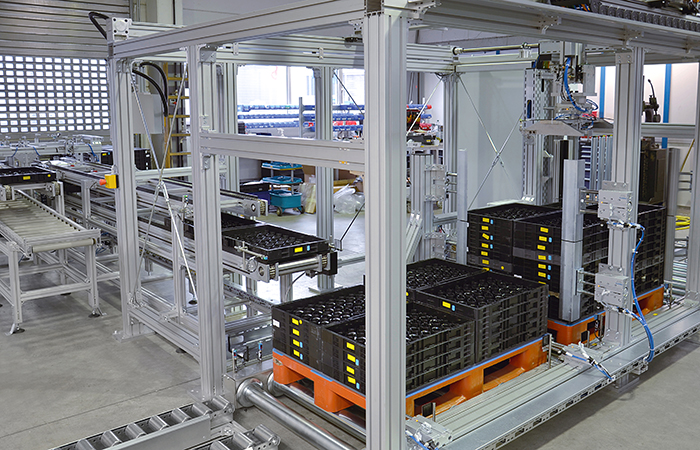 mk have designed a fully automated system for a customer who required a palletiser with a connected tray recirculation system.  This custom solution uses cost-effective standard components and adapted special functions which allows pallet trucks to be used to feed Euro pallets into the system.
The palletiser which de-stacks the filled trays from the Euro pallets then feeds them into the recirculation system. They are then conveyed to an index station, where a customer-provided robot removes the workpieces from the trays. The empty trays are conveyed back to the palletiser, where they are stacked on empty pallets and made available to be transported away. The system is able to recognise and handle different tray types and different stack heights on the pallets. Crucially, the machine is also built from components that are as tough as possible and are able to operate autonomously for up to 14 hours.
mk used their extensive profile range for the transport system with feeding and removal of pallets via heavy-duty roller conveyors. Alignment of tray stacks was achieved using pneumatic positioning units with approach angle attachments. A 3-axis palletiser gantry, consisting of LZR 2005 linear modules with a rotating gripper and balancing stroke compliments this. A tray recirculation system, consisting of KTF-P 2010 chain conveyors, was combined with lifting units. Finally, an index station and device is utilised to hold down the trays so the workpieces can be removed by a customer-provided robot.