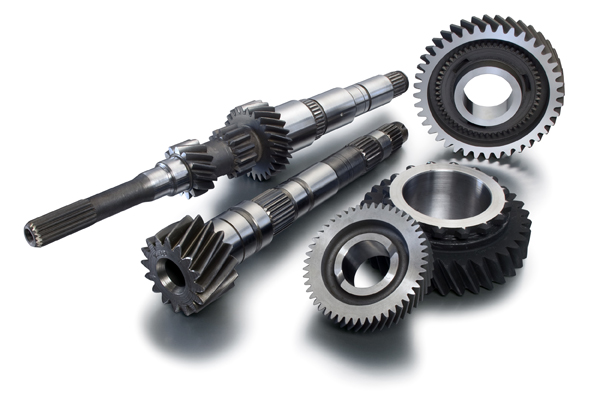 It is well established that hard part turning can reduce machining time and costs by 70% or more in comparison with conventional grinding techniques, while also offering improved process flexibility and shorter lead-times. However, these gains, which are particularly important to machine shops producing automotive transmission components, can only be realised using optimised insert grades. With this thought in mind, the latest grades from Sandvik Coromant have been designed to deliver enhanced resistance to crater wear and fracture, thus delivering higher speed and improved edge line toughness.
Today, hard part turning is widely regarded as an efficient and cost effective alternative to the grinding of hardened steel components. Hard part turning can significantly boost productivity while at the same time reducing machine investment costs, energy consumption and coolant usage. Further benefits include easier swarf handling and the potential to recycle chips, thus generating additional revenue.
Hard part turning is usually a finishing or semi-finishing process with high dimensional accuracy and surface quality requirements. Using a very broad definition, hardened steel refers to materials of 55 HRc and above, which therefore demands suitably robust cutting tools. Since it was first introduced as a cutting tool material in the 1980s, the use of CBN (cubic boron nitride) – the second hardest known material in the world – has penetrated the market extensively. This is principally because CBN inserts can withstand high cutting temperatures and forces, yet still retain their cutting edge. CBN has been proven to deliver long, consistent tool life and produce components with excellent surface finish.
Before hard part turning can begin, the process will benefit enormously from careful preparation of the component in the soft (unhardened) state. Due to the relatively small depths of cut used in the turning of hard parts, tight dimensional tolerances in soft machining are key to achieving a consistent process that, in turn, will deliver longer tool life and high quality components. Here, the use of features such as chamfers and radii on the component will optimise entry and exit paths for maximum tool life. Consideration should also be given to component clamping. For instance, the use of wide clamping jaws and positioning the component as close as possible to the spindle bearings, will prove beneficial. As a general guideline, a length-to-diameter ratio of 2:1 is recommended for workpieces supported at one end only, with an acceptable maximum of 4:1. Where there is additional tailstock support, the ratio can be extended to 8:1. With regard to insert clamping, the security and stability provided by the CoroTurn® RC clamping system is recommended for CBN inserts. Dry cutting (without coolant) is a further key advantages of hard part turning. CBN inserts can tolerate cutting temperatures in excess of 1000°C (1800°F). In general, the use of CBN in dry conditions has a positive effect on tool life, particularly in interrupted cutting.
To select the correct inserts, it is first worth understanding the most common types of wear associated with CBN tools – crater wear and flank wear. Crater wear is prevalent when machining case hardened steels and is caused principally by the extremely high temperature and forces at the contact point between workpiece and insert. This type of wear development weakens the cutting edge, which can lead to inconsistent tool life. Flank wear is more common at lower cutting speeds and when machining more abrasive materials such as bearing or tool steels. The primary wear mechanism here is abrasion. Large flank wear has a negative effect on surface integrity and dimensional accuracy. Although wear is complex, there are ways to control it and maintain a consistent and reliable machining operation. For instance, to help counter the effects of flank wear, cutting speeds and feeds should be increased, while to reduce crater wear, cutting speed should be lowered and feed increased.
Clearly, insert geometry and edge preparation are extremely important in hard part turning as they have a significant influence on tool life and productivity. For instance, a standard nose radius will generate the lowest cutting forces and has the lowest stability requirements, while wiper and Xcel geometries from Sandvik Coromant are designed to deliver a combination of high productivity and surface finish. Insert nose radius is a very important performance parameter. A small nose radius of 0.2-0.4 mm (0.008-0.016 inch) provides good chip breaking, while a large nose radius of 0.8-1.2 mm (0.03-0.05 inch) generates better surface finish and produces thinner chips, which in turn reduces the degree of crater wear. A further consideration is selecting the chamfer size and edge condition best suited to the application. Here, S-land edge preparation is the first choice for hard part turning. It is a stronger edge than T-land, with more resistance to chipping and fracture, resulting in more predictable tool life.
Combining all of these factors into two new grades, Sandvik Coromant has released CB7105 and CB7115 to strengthen its offer in the ISO H05 to H15 application area. While the former offers enhanced crater wear resistance in comparison with existing solutions, the latter is designed to provide users with better fracture resistance than today's available grades. These benefits equate to higher speed and improved edge line toughness respectively. CB7105 and CB7115 have been developed to tackle the challenges of hard part turning through the application of a high performing PCBN grade material and TiN-PVD coating. Furthermore, the edge preparation has been updated for negative style inserts and all wiper inserts, ensuring better balance between tool life and edge line security.
In conclusion, CB7105 allows machine shops to achieve lower cost per part when used as part of a high speed machining strategy. It is suitable for continuous cutting operations, shallower depths of cut and smaller chip loads at high speed. Alternatively, at lower speeds, users of CB7105 can benefit from longer tool life. CB7115 is also designed to deliver lower cost per component, typically through the adoption of one-cut strategies at higher speeds. This grade is more suitable for continuous-to-light interrupted cuts, or larger chip loads at medium to high speeds. Highlighting the potential gains on offer, one trial site increase production of case-hardened 16MnCrS5 (HRc 57-62) automotive components by at least 15% after switching to CB7105 and CB7115. In fact, CB7115 surpassed 600 components (at 0.15 minutes time-in-cut) with predictable surface generation and lower Rz value. The cutting speed was 170 m/min (557 ft/min), while feed rate was 0.22 mm/rev (0.087 inch/rev) with a cutting depth of 0.15 mm (0.059 inch). Ultimately, reliable and predictable machining is always the goal when machining case-hardened or induction-hardened steel components such as transmission shafts and gears. CB7105 and CB7115 grade inserts offer advanced PCBN substrates and optimised edge preparation and edge line quality to ensure better and more predictable tool life and process security.