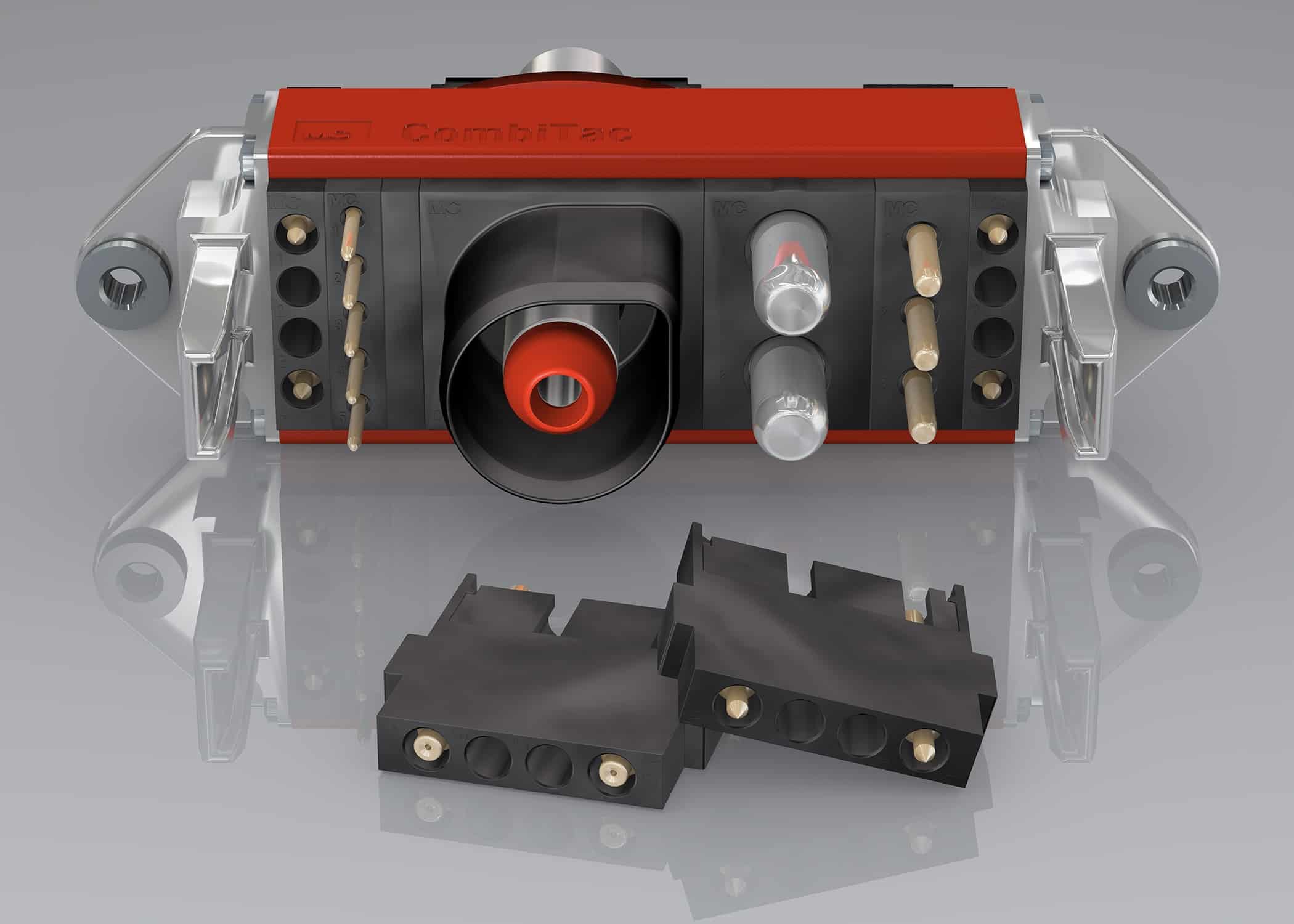 A dedicated last-mate first-break module has been added to Multi-Contact's versatile CombiTac connector system. With its contacts shorter than those for other modules in the connector, the CT-LMFB provides a positive indication of when the CombiTac is fully connected.
Each module consists of two LMFB contacts placed at the edge positions of the CombiTac carrier. They can be used for monitoring the connection status of electrical contacts of diameter from 1.5mm to 12mm.
The CT-LMFB is the only dedicated LMFB module of its type on the market, and it ensures greater reliability since the alternative of using ordinary, shorter contacts leaves open the possibility of them being incorrectly positioned. Also, using contacts of size or type intended for other purposes such as power or data connection increases the risk of malfunction.
Applications include monitoring and control functions in industry, automation and mechanical engineering. The unit can be used as a high voltage interlock loop (HVIL) to prevent unplugging under load or as a safety circuit to release the power supply once a full connection has been made.
The LMFB is designed for automated applications with up to 100 000 connection cycles in tough industrial environments. Guaranteed and error-free monitoring is ensured, even in the presence of shock and vibration, in line with DIN 50467.
The rated voltage is 29.5Vdc, and termination for copper conductors is by crimping. Blind plugs are recommended for filling the two empty slots in each contact carrier.
The connectors achieve their long term reliability due to the use of MULTILAM technology, a proprietary contact system that uses multiple torsion spring contact elements that allow electrical contact to be made via a large number of contact points. This arrangement substantially reduces contact resistance and ensures strong resistance to shock and vibration.
CombiTac connectors can be fitted with any combination of high voltage, high current, data, fibre optic, power, thermocouple and coaxial contacts, and even pneumatic and fluid connectors.
An interactive configuration tool on the new dedicated CombiTac web site (www.combitac.com) enables engineers to build modular assemblies online, explore the final product, review assembly dimensions and request a quotation.