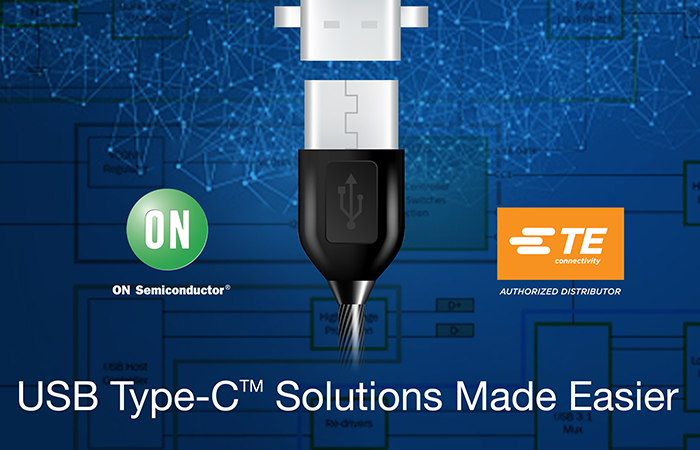 November 18, 2019 – Mouser Electronics, Inc., the authorized global distributor with the newest semiconductors and electronic components, is pleased to offer customers a new page dedicated to the comprehensive selection of USB Type-C products from ON Semiconductor and TE Connectivity. USB Type-C cables introduced new design flexibility with interchangeable cable ends, in addition to vastly improved rates of power and data transmission. Mouser's new application-specific solution page offers a convenient resource for researching and selecting the perfect USB Type-C products for a variety of designs.
The TE and ON Semiconductor USB Type-C page, now available on the Mouser Electronics website, features a wide range of products to support data and power transmission applications. The FUSB307B USB Type-C Port Controller with USB-PD from ON Semiconductor is a fully autonomous controller for low-power applications that require Power Delivery, such as smartphones, laptops, tablets, and power banks. The FUSB340 USB 3.1 SuperSpeed 10Gbps switch is ideal for mobile devices that require a reversible cable with a switch, delivering superior performance in a variety of high-speed data transmission protocols. ON Semiconductor's FUSB251 Type-C CC and SBU protection IC is an I2C overvoltage protection switch suitable for a range of mobile devices and external USB storage.
The USB Type-C solution page also includes a selection of TE Connectivity interconnect products suitable for use in harsh environments. TE's IPX8-rated USB Type-C onboard receptacle features enhanced board retention and waterproof performance, making it a durable solution for efficient power transmission. Likewise, the splash-proof USB Type-C connectors are IPX4 rated, ensuring protection against water splashed from all directions. TE's standard USB Type-C connectors offer enhanced retention features and reliable performance for a range of industrial, medical, and lighting applications.
The new USB Type-C page features a useful list of featured products, along with ordering information and downloadable resources. The page also includes a DC/DC block diagram that provides a useful roadmap for design and development.
To learn more, visit https://eng.info.mouser.com/te-onsemi-usbtypec-en.
With its broad product line and unsurpassed customer service, Mouser strives to empower innovation among design engineers and buyers by delivering advanced technologies. Mouser stocks the world's widest selection of the latest semiconductors and electronic components for the newest design projects. Mouser Electronics' website is continually updated and offers advanced search methods to help customers quickly locate inventory. Mouser.com also houses data sheets, supplier-specific reference designs, application notes, technical design information, and engineering tools.
About Mouser Electronics
Mouser Electronics, a Berkshire Hathaway company, is an award-winning, authorized semiconductor and electronic component distributor focused on rapid New Product Introductions from its manufacturing partners for electronic design engineers and buyers. The global distributor's website, Mouser.com, is available in multiple languages and currencies and features more than 5 million products from over 800 manufacturers. Mouser offers 27 support locations around the world to provide best-in-class customer service and ships globally to over 630,000 customers in 223 countries/territories from its 750,000 sq. ft. state-of-the-art facility south of Dallas, Texas. For more information, visit www.mouser.com.
 About ON Semiconductor
ON Semiconductor is driving energy efficient innovations, empowering customers to reduce global energy use. The company is a leading supplier of semiconductor-based solutions, offering a comprehensive portfolio of energy efficient power management, analog, sensors, logic, timing, connectivity, discrete, SoC and custom devices. The company's products help engineers solve their unique design challenges in automotive, communications, computing, consumer, industrial, medical, aerospace and defense applications. ON Semiconductor operates a responsive, reliable, world-class supply chain and quality program, a robust compliance and ethics program, and a network of manufacturing facilities, sales offices and design centers in key markets throughout North America, Europe and the Asia Pacific regions.
About TE Connectivity
TE Connectivity Ltd. is a $13 billion global industrial technology leader creating a safer, sustainable, productive, and connected future. Our broad range of connectivity and sensor solutions, proven in the harshest environments, enable advancements in transportation, industrial applications, medical technology, energy, data communications, and the home. With nearly 80,000 employees, including more than 8,000 engineers, working alongside customers in approximately 150 countries, TE ensures that EVERY CONNECTION COUNTS. Learn more at www.te.com.
Trademarks
Mouser and Mouser Electronics are registered trademarks of Mouser Electronics, Inc. TE Connectivity, TE, TE connectivity (logo), and EVERY CONNECTION COUNTS are trademarks owned or licensed by the TE Connectivity Ltd. family of companies. All other products, logos, and company names mentioned herein may be trademarks of their respective owners.