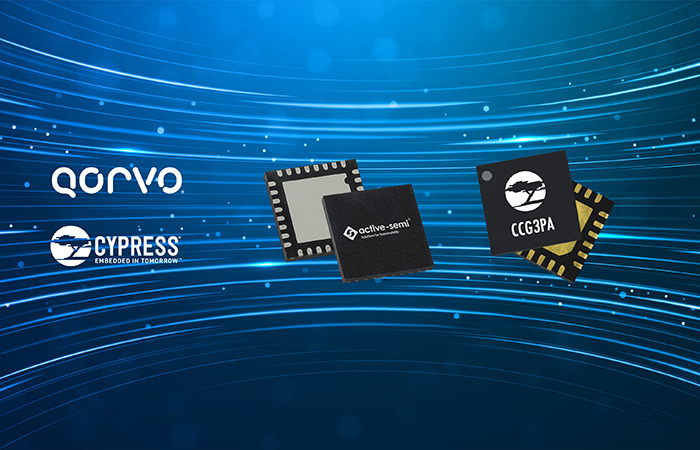 December 12, 2019 – Global authorized distributor Mouser Electronics, Inc. presents a new USB Type-C charging hub reference design from Qorvo and Cypress Semiconductor to help engineers speed their design and development time.
The reference design includes the Qorvo ACT4751 DC-to-DC buck converter and a Cypress EZ-PD™ CCG3PA USB Type-C and Power Delivery (PD) controller. The products and reference design support applications such as PC and tablet power adapters, smartphone and mobile chargers, vehicle chargers, and power banks.
The Qorvo ACT4751 is a high-efficiency, synchronous step-down DC-DC converter with a wide 4.5 V – 40 V input range. The ACT4751 employs a proprietary control algorithm and controls two integrated 50 mOhm MOSFETs to achieve very high efficiency and enable extremely compact designs.
The Cypress EZ-PD CCG3PA controller supports USB-C power source and dual-role power source/sink. Additionally, the controller fully supports the USB PD 3.0 Programmable Power Supply (PPS) specification, which allows smartphones to communicate with the charger to determine the ideal voltage and current levels. The controller's Quick Charge 4 certification also incorporates improved safety features to ensure fast charging without overheating.
Together, the ACT4751 converter and CCG3PA controller form the basis of a USB-C/USB-A charging power hub reference design. The solution is a receptacle-based Type-C power adapter that supports a maximum power profile of 80 W (20 V, 4 A), along with a legacy Type-A port with a maximum output of 60 W (20 V, 3 A when activating Quick Charge 3).
As an authorized distributor, Mouser Electronics, Inc. is focused on the rapid introduction of new products and technologies, giving customers an edge and helping speed time to market. Over 800 semiconductor and electronic component manufacturers count on Mouser to help them introduce their products into the global marketplace. Mouser's customers can expect 100% certified, genuine products that are fully traceable from each manufacturer.
To learn more about the Qorvo ACT4751 and to see the reference design block diagrams, visit https://www.mouser.com/new/qorvo/active-semi-act4751-buck-converter/.
For more information on the Cypress CCG3PA controller, go to https://www.mouser.com/new/cypress-semiconductor/cypress-ez-pd-ccg3pa-usb-type-c/.
With its broad product line and unsurpassed customer service, Mouser strives to empower innovation among design engineers and buyers by delivering advanced technologies. Mouser stocks the world's widest selection of the latest semiconductors and electronic components for the newest design projects. Mouser Electronics' website is continually updated and offers advanced search methods to help customers quickly locate inventory. Mouser.com also houses data sheets, supplier-specific reference designs, application notes, technical design information, and engineering tools.
About Mouser Electronics
Mouser Electronics, a Berkshire Hathaway company, is an award-winning, authorized semiconductor and electronic component distributor focused on rapid New Product Introductions from its manufacturing partners for electronic design engineers and buyers. The global distributor's website, Mouser.com, is available in multiple languages and currencies and features more than 5 million products from over 800 manufacturers. Mouser offers 27 support locations around the world to provide best-in-class customer service and ships globally to over 630,000 customers in 223 countries/territories from its 750,000 sq. ft. state-of-the-art facility south of Dallas, Texas. For more information, visit www.mouser.com.
About Qorvo
Qorvo makes a better world possible by providing innovative Radio Frequency (RF) solutions at the center of connectivity. The company combines product and technology leadership, systems-level expertise and global manufacturing scale to quickly solve customers' most complex technical challenges. Qorvo serves diverse high-growth segments of large global markets, including advanced wireless devices, wired and wireless networks and defense radar and communications. The company also leverages unique competitive strengths to advance 5G networks, cloud computing, the Internet of Things, and other emerging applications that expand the global framework interconnecting people, places and things.
About Cypress Semiconductor
Cypress is the leader in advanced embedded system solutions for the world's most innovative automotive, industrial, smart home appliances, consumer electronics and medical products. Cypress' microcontrollers, analog ICs, wireless and USB-based connectivity solutions and reliable, high-performance memories help engineers design differentiated products and get them to market first. Cypress is committed to providing customers with the best support and development resources on the planet enabling them to disrupt markets by creating new product categories in record time.
Trademarks
Mouser and Mouser Electronics are registered trademarks of Mouser Electronics, Inc. All other products, logos, and company names mentioned herein may be trademarks of their respective owners.