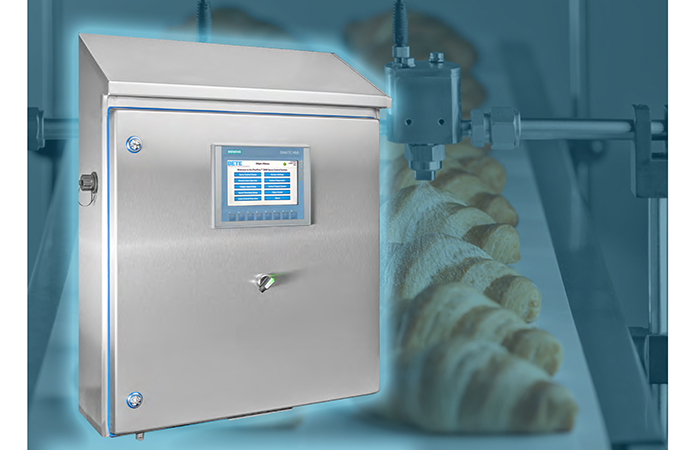 Accurate, economical and consistent spraying is essential in many manufacturing and processing applications and the new BETE® FlexFlow™ spray control system provides new levels of precision combined with optimum control and flexibility. Available in the UK through THE SPRAY NOZZLE PEOPLE, FlexFlow spray controllers are designed for use with the recently launched Electric HydroPulse® and other automatic spray nozzles. Each control panel can be used as a stand-alone system, or be integrated with existing plant operations.
These plug-and-play controllers are an ideal solution for precision spraying applications in food manufacture, brewing, pharmaceutical, fine chemicals and building materials. These would include applying expensive compounds such as; flavourings, coatings, preservatives, release agents, moisturisers, mould inhibitors and antimicrobials, with exceptional accuracy.
FlexFlow spray controllers have the ability for even finer spray precision by regulating spray flow using Pulse Width Modulation (PWM). With traditional single fluid spray nozzles, the only way to control flow rate is by adjusting liquid supply pressure. This results in changes to spray performance characteristics such as drop size and spray pattern. By comparison PWM flow control works by cycling spray nozzles on and off at high frequencies of up to 150 times per second.
Adjusting the duty cycle, or ratio of ON versus OFF dwell time, enables FlexFlow to control the average flow rate without changing the supply pressure or spray performance characteristics. With this ability for high frequency operation, spray coverage remains uniform and consistent, even when coating products on high speed conveyors.
The spray controllers are available in 2 options. The FlexFlow 1000 is for smaller volume applications providing precision control for 2 zones of up to 12 nozzles, with 6 nozzles in each zone.
Zones 1 and 2 can be programmed with independent or synchronous settings, with an HMI touch screen enabling intuitive operation for streamlined control and diagnostic overview for trouble-shooting.
The FlexFlow 2000 option provides ultimate system flexibility for managing larger spraying operations of up to 20 spray nozzles in up to 20 independently controlled spray zones. With individual spray zone assignment for each nozzle, you can group nozzles into as many zones as needed to accomplish your spray process objectives.  ENDS
More details at:   www.spraypeoplegroup.com
Or contact: ivan@spray-nozzle.co.uk     Tel: +44 (0) 1273 400092     http://www.spray-nozzle.co.uk