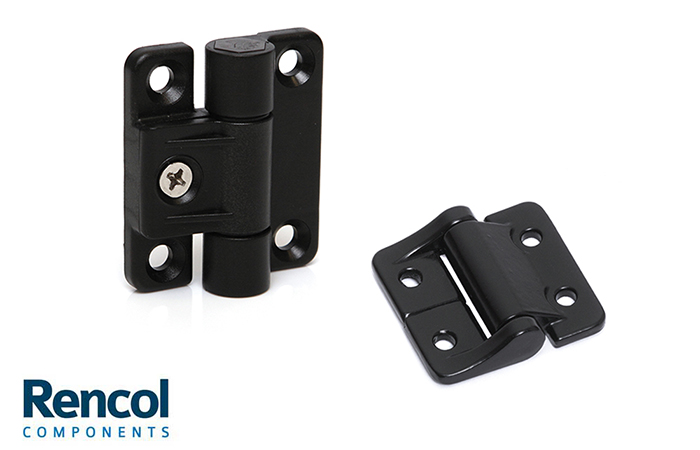 Positioning hinges are an efficient, compact and money saving solution to enclosure and cabinet access. Like our detent hinges, our torque positioning hinges combine several useful features in a single device.
Torque hinges (also known as friction hinges) obtain their name from the constant or adjustable torque (or friction) in the hinge mechanism. This torque affects the relative force required to open and close a door. The friction allows doors to be held open, hands free, and without additional components such as gas struts. This makes installation simpler and less expensive. Access is improved because no extra components are required to hold the door open.
Rencol offers two types of positioning hinge: a constant torque positioning hinge and an adjustable torque positioning hinge. As the name suggests, our constant torque positioning hinge has constant torque throughout its full range of motion. This constant torque enables cabinet and enclosure doors to remain open at a position that is convenient to the user. Furthermore, this hinge's die cast aluminium hinge leafs, stainless steel pin and powder coated black finish make it strong and durable while remaining lightweight.
Our adjustable torque positioning hinge is a versatile positioning hinge with fully adjustable torque. An adjustment screw ensures complete control over the frictional holding torque. Adjusting the screw changes the level of resistance required to open and close the hinge, thus enabling lids, doors, and panels to be held open at any angle. Once adjusted, the positioning torque stays consistent throughout the full range of motion. The acetal polymer construction, plus zinc plated screw and polycarbonate pin ensure this hinge is both lightweight and strong.
Friction hinges are commonly used on doors, hatches and access panels on cabinets and enclosures for IT and telecoms equipment, HVAC, manufacturing machinery and processing & packaging equipment.
Rencol holds substantial stocks at our Bristol warehouse, our minimum order quantities are low, and we pride ourselves on offering exceptional value for money. Speak to our technical sales team for price, availability, and technical advice for your application.