The Spray Nozzle People (SNP) is pleased to announce it has boosted its range of spray solutions for food manufacturers with an agreement to supply US firm Lafferty Equipment Manufacturing's innovative range of equipment to spray, fog and foam cleaning agents and disinfectants.
SNP has long been a provider of spray nozzle and cleaning in place (CIP) solutions to the food industry, supplying nozzles and systems for a range of applications such as precision spraying, coating, pasteurising, spray drying and mixing. The Lafferty range complements the company's existing spray nozzle products, adding washdown guns, venturi mixing systems, foaming systems, fogging systems and many other solutions to help improve cleaning and sanitisation around food production plants of all types.
The Lafferty range includes:
Entry Way Foamer systems
These timed units will deliver foam across the floor of entry ways. The sanitising foam will cling to the footwear of anyone one moving past ensuring pathogen control between zones. They are an excellent replacement for liquid, pad and mechanical systems.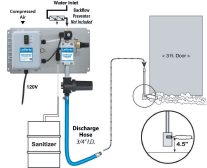 Conveyor Sanitisers
These are specialist, adjustable sanitising spray systems for treating conveyors of all sizes. They can be wall mounted or mobile. There are also options for delivering foam to conveyors.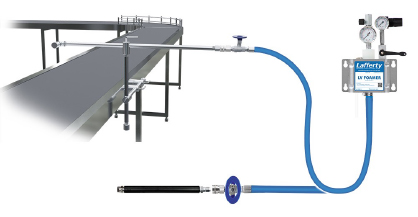 Washdown Mixing Stations
These wall mounted mixing systems will deliver the correct doses of concentrate to the main water line delivering sanitising washdown fluids around the factory. No pump is required as the mixing is achieved via the venturi principle.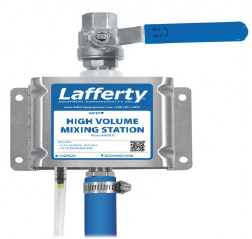 Air Fogging Guns
Our air operated fogging and spray guns are used to produce low volume, small drop sized mists. These can be directed by an operator.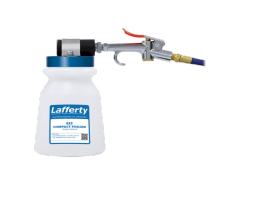 Says Director Ivan Zytynski: "The Lafferty range has some really exciting and smart products to improve industrial cleaning and disinfecting while reducing water usage and costs. We're delighted to be able to offer this range of solutions to our existing and future customers in addition to our existing spray solutions."
To see the range visit: http://www.spray-nozzle.co.uk/spray-nozzle-applications/cleaning/