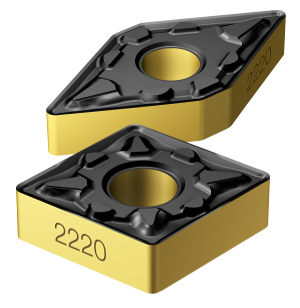 Sandvik Coromant is introducing a dedicated turning insert optimised for stainless steel materials that offers increased productivity, longer tool life and higher machine utilisation. GC2220 will prove to be a major benefit to pump and valve manufacturers, as well as general engineering shops, particularly those serving sectors such as aerospace, automotive and oil and gas.
In response to common challenges associated with turning stainless steel workpieces, GC2220 has been designed to offer higher resistance to plastic deformation and provide greater edge line security. Plastic deformation takes place when the tool material becomes soft, typically as a result of elevated cutting temperatures. If a manufacturer is only machining two components before the insert needs to be replaced due to plastic deformation, then both productivity and profitability become compromised.
GC2220 is a CVD-coated gradient sintered carbide that is designed specifically for semi-finishing to rough turning under stable conditions where higher wear resistance is required. Inveio coating from Sandvik Coromant is deployed to provide unidirectional crystal orientation in the alumina coating layer, delivering higher levels of wear resistance and tool life. This advanced and proprietary technology is supported by a columnar MT-TiCN inner coating that is hard and resistant against abrasive wear. As an added advantage of longer tool life, machine shops will be able to reduce their cutting tool inventory.
Customers set to benefit from this new grade are essentially any manufacturers tasked with external and/or internal turning operations in austenitic and duplex stainless steel components such as pump housings, axles, shafts, seals, valves and flanges. Further materials where the attributes of GC2220 will prove advantageous include martensitic stainless steels and low carbon steels.
GC2220 is available for CoroTurn 107 inserts, which are designed for the internal and external turning of small or slender components, CoroTurn TR for external profiling and T-Max P for general turning applications.