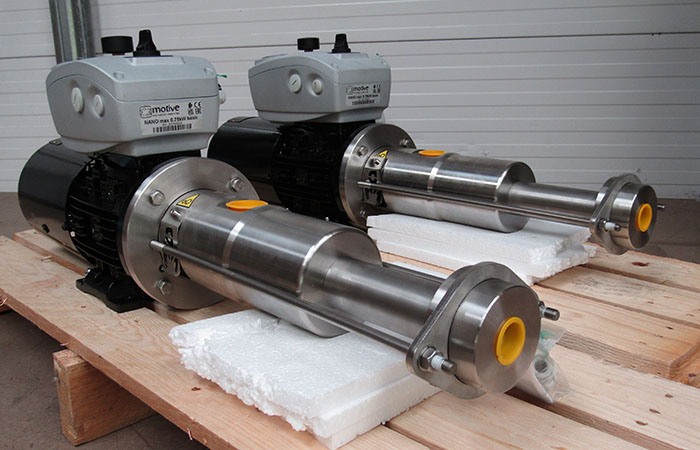 Multiphase Fluid Flow Project Enquiry
It always excites us to be involved with student projects, helping engineers of the future fulfil their potential. Each time we are approached to assist with these experiments, we discover a new process that increases our understanding, each project is unique, and we are always proud to be a part of them.
Fluid mechanics are a key component of engineering studies and students are often tasked with creating experiments to study the behaviour of exotic fluids under strenuous conditions. Working with unusual and viscous liquids can vastly increase our understanding of flow, pressure, and all other facets of fluid behaviour.
We were approached by an engineering student designing a test rig for inducing monodisperse liquid slug flow using both low and high viscosity oils and water solutions with viscoelastic properties. Unsure on what pump technology to use to help him achieve his goals, he explained the specific requirements to our technical staff in the hopes we had the answers.
A Multiphase Liquid is a liquid consisting of various phases of fluids such as gas, oil and water which do not mix together. Multiphase liquids are typically found during oil extraction in marginal oil fields which may also contain sand, brine or other solid particles. 
How is Multiphase Flow Created
To create the conditions required for multiphase fluid flow in a laboratory environment, a sophisticated, delicate, and precise piping arrangement is required. The setup is comprised of a glass pipe T-piece that is only 5mm in diameter, these minute dimensions are required to induce a monodisperse liquid slug flow. Larger diameter tubes are then connected to this piece to allow the slugs to be released as droplets, finally passing through a membrane inside the tube.
Very small and precise flow rates are necessary to reach these conditions, in this case a flow range of only 0.45 to 4.2 litres per minute at a maximum pressure of 5 bar. In addition to the low flow rate, the pumps need to be self-priming and produce a non-pulsating flow. A non-invasive NMR (Nuclear Magnetic Resonance) measuring device is used to take readings and this cannot function with a pulsating and erratic flow.
 A Low shear Solution
The detailed requirements of this installation make our DM series of progressive cavity dosing pumps the ideal solution. Being positive displacement pumps, they are excellent at metering both viscous and non-viscous fluids at low and precise flow rates while maintaining the required pressure.
To make life as easy as possible for the student, we fitted a variable speed drive directly to the motor, this has a potentiometer to simply increase or decrease the flow rate and comes complete with a reverse switch. To allow the flow rate to be decreased as low as 0.45L/min, the motor is installed with an additional forced air-cooling fan, this keeps the motor cool while working as incredibly low speeds.
These units really do tick all the boxes for this client, progressive cavity pumps are self-priming by nature and produce a smooth non-pulsating flow, exactly what is required for this project. This pump technology is often used in multiphase pumping applications as progressing cavity design improve the efficiency of oily water separators, with oil droplets kept intact by the low shear pumping action and not emulsified during pumping with water which make separation more difficult. The delicate pumping motion makes them excellent for handling similar sensitive fluids, with this range of dosing pumps a firm favourite for sensitive experiments such as this.
The versatility of these metering pumps facilitates their use in a wide range of industries and for handling numerous types of fluids. Available in polished stainless steel 316 versions for food grade/sanitary applications along with a variety of stator and rotor material options such as PTFE, NBR and EPDM allows them to be used for anything from paints and pigments to mayonnaise and lime milk.
In addition to the above, the design permits the passage of solids in suspension which allows the dosing of sludges and slurries, something that is difficult for other dosing pump types. Flammable fluids such as alcohols and solvents are also no issue for this range as we can supply Atex certified versions on request.
This student engineer now has an extremely versatile and robust solution for their project, this coupled with their enthusiasm and understanding means we have no doubt this project will be a great success.
Here are the specifications of the supplied dosing units:


Model:2 Qty NRDM012K2 CF8M-SS316 Progressing Cavity Close Coupled Dosing Pumps, with Integrated Inverter Motor/Gearbox & Forced Cooling
Fluid:Oils of various viscosities and water solutions with viscoelastic properties
Materials:Stainless steel AISI-316 casing, NBR stator and AISI-316 stainless steel rotor
Flow rate:25 - 255 l/h / 0.42 - 4.25 l/min
Pressure:5 Bar
Inlet/Outlet:Inlet 1" / Outlet: 3/4" (BSP/Gas)
Motor:0.55kW/230V-3Ph-50Hz/1500 RPM/IP55 – With Built in Inverter and Forced Cooling.