The Helixa torque tester is designed for measuring medium and low torque variations on numerous delicate or finely engineered products. The tester's sensitivity and accurate alignment make it ideal for testing quality assemblies.
Driven by Emperor™ software the Helixa offers two program modes — console testing mode and program testing mode. It is user-friendly with easy-to-understand commands. The calibration and capacity details of the individual torque cell are automatically identified by the Emperor software.
Users can choose from seven different HTC torque cells, which allows measurement from a few mN.m up to 6 N.m with an unmatched precision of ±0.5% of full scale.
There are 2 models: the Helixa-I, requires a Windows PC to run the Emperor software and control the torque tester. Its compact design and small footprint make it the perfect selection as a bench-top device or the Helixa-xt, which is fitted with a Windows-based touch screen console. Comparable to a standard PC but operates excellently as a standalone bench-top torque tester. It saves time by not having to move to and from a computer.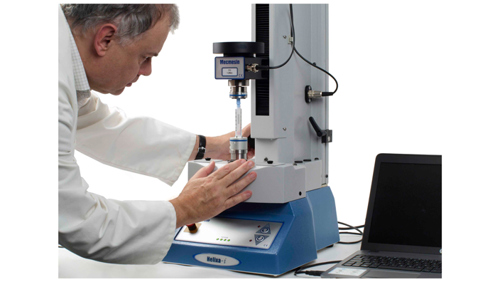 Key Features:
Counterbalance for eliminating the grip's weight when applied to a sample, which is crucial while testing precise torque at low forces
Load tray applies a predefined axial load
Emergency stop button
LED power indication
Direction control keys for quick orientation of sample
Interchangeable Helixa torque cell is fast and simple to fit
Easy positioning crosshead for rapid modification and locking when altering test sample
Controlled by the powerful Emperor™ software, which enables complete programming and results analysis to match test needs
Precision fixtures help secure even the lightest samples. Custom fixtures are also provided
Protective bellows prevents ingress
High quality construction to ISO 9001 quality standards and CE declaration of conformity
Key Applications:
Cosmetics – packaging
Jewellery – watch components
Pharmaceutical
Electronics – Rotary electronic parts; Light torsion springs
Medical industry – Precision medical devices
For more information visit https://www.mecmesin.com/software-controlled-torque-systems/precision-automated-torque-tester
Or contact PPT Group UK Ltd t/a Mecmesin
T: +44 (0) 1403 799979
E: info@mecmesin.com