The Vortex-dV from Mecmesin is a versatile and cost-effective torque testing system, designed to apply torque up to a capacity of 10 N.m. It comprises of a precision-controlled motorized stand with a choice of 4 torque transducers, an AFTI digital torque display and data capture unit, and a range of fixtures and grips.
This robust and easy to use system is perfect for both quality control in the production area, or research and development in the laboratory. It improves significantly on manual units with precise speed control and accurate gripping. Additionally, it eliminates user repetitive strain injury in batch testing.
Its multifunctional control wheel allows precise setting of position and speed, and its colored LEDs visibly indicate machine status during testing.
It can be used to test a target angle, or between angular positions, and a torque limit or break. The Vortex-dV offers a highly versatile and cost-effective solution for several applications and will provide constant and reliable performance.
Specimens up to 440mm tall and 280mm wide can easily be tested in both clockwise and counter-clockwise directions. For specimens requiring a downward force before torque is applied (e.g. child-resistant closures), the Vortex-dV is fitted with a convenient top-load tray.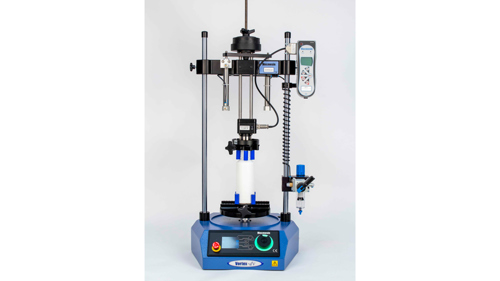 Weighing under 20kg its compact design and small footprint make it an ideal bench-top tester for use in the quality control lab or production area.
VectorPro™ Lite Data Acquisition Software
To perform data acquisition, reporting and exporting, graph plotting, results calculation and storage of regular test routines, add VectorPro™ Lite software to the Vortex-dV.
Key Features:
Affordable: suitable for limited budgets
User friendly: easy-to-use straight out of the box
Control: rapid positioning of drive spindle and easy setting of test parameters
Visual: coloured LEDS around the multi-function wheel indicate machine status during testing
Versatile: option to apply downward force by adding weights during test – particularly suited to  child-resistant closure testing
Flexible: accommodates a variety of samples up to 505 mm (19.9") in height
For more information https://www.mecmesin.com/motorised-torque-test-stands/motorised-torque-tester
Or contact PPT Group UK Ltd t/a Mecmesin
T: +44 (0) 1403 799979
E: info@mecmesin.com