Mecmesin's MultiTest-dV is a versatile and easy to use stand-alone force tester.  Capable of handling precision-controlled compression and tension testing the MultiTest-dV is ideal for routine quality control in a production or laboratory environment, with three models rated to 0.5 kN, 1 kN and 2.5 kN.
The multifunctional control wheel enables precise setting of position and speed. The dV's coloured LEDs visibly indicate machine status during testing.
The MultiTest-dV can be configured with a VFG or AFG Digital Force Gauge for product testing.  Combine with VectorPro Lite Software to plot data graphically.  Alternatively it can be used with an Enhanced Load Sensor (ELS) for materials testing when combined with VectorPro MT software.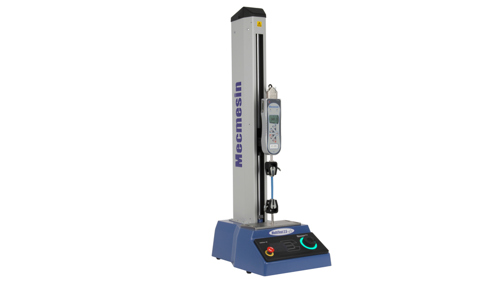 Key Features:
Affordable: suitable for limited budgets
User friendly: easy-to-use straight out of the box
Precision: speed range from 0.1 to 1200 mm/min and displacement resolution to 0.001 mm
Control: rapid crosshead positioning and easy setting of test parameters
Visual: coloured LEDS around the multi-function wheel indicate machine status during testing
Choice: models available with extended travel for elongation testing of highly elastic materials such as rubber and film
For more information visit https://www.mecmesin.com/motorised-force-test-stands/motorised-force-tester
Or contact PPT Group UK Ltd t/a Mecmesin
T: +44 (0) 1403 799979
E: info@mecmesin.com