Mecmesin's OmniTest materials tester provides the ideal solution to materials testing at a competitive price. 
Its versatile construction makes it perfectly suited for testing all kinds of materials including ceramic, composite, fabric, metal, polymer, rigid plastic, rubber and wood materials.  It is controlled by VectorPro MT, Mecmesin's materials testing software designed for use in QC and R&D laboratories.
The OmniTest has a convenient, simple-to-use front panel for selection of display parameters and precise jog-control for rapid crosshead positioning. Sophisticated internal electronics communicate seamlessly with VectorPro MT software to efficiently perform the test procedure.
A comprehensive range of new Enhanced Load Sensors (ELS) has been designed to communicate with the OmniTest, delivering superior performance to meet the specific requirements of materials testing—even for brittle specimens. Improved accuracy of ± 0.5% of reading allows more tests to be performed without changing the load sensor. However, in situations where multiple load ranges are required, the ELS sensors are fully interchangeable in a few seconds with automatic recognition of calibration details by VectorPro MT software when connected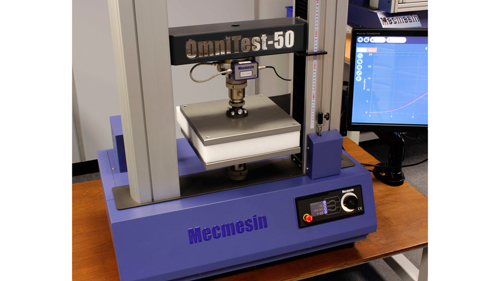 The OmniTest is  available in 5 kN and 7.5 kN single column capacities and 10 kN, 25kN and 50 kN twin-column models.
Key features
4 multi-function buttons for easy operation
Clear indication of load, speed & displacement
Active load holding to apply and maintain a constant stress or load even on very stiff test specimens
Active load rate control (stress rate control) or load-ramping (N/sec)
ELS loadcells with excellent accuracy across the load range
Rigid frame with lightweight construction
Integrated cable management system
Extensive range of grips & fixtures
Extensometer ready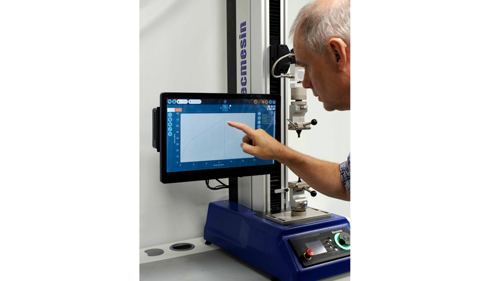 VectorPro™ MT software
VectorPro MT software has been designed to work with the OmniTest range of bench-top frames to efficiently perform materials testing procedures. Touch-screen enabled, its intuitive drag and drop, icon-driven user-interface ensures it is completely intuitive to use with the minimum of training. Together with in-built stress-strain calculations and powerful reporting tools, it is the ideal choice for quality assurance checks at the production line and in the QC lab or, for more in-depth analysis of material properties, in the R&D laboratory
For more information visit https://www.mecmesin.com/materials-testing/twin-column-materials-tester
Or contact PPT Group UK Ltd t/a Mecmesin
T: +44 (0) 1403 799979
E: info@mecmesin.com